Introduction
Aspire CCS, an analyst and strategy firm specializing in the Customer Communications Management (CCM) industry, has recently published an in-depth analysis of the state of cloud computing in CCM. The report examines the current state of cloud in CCM and highlights opportunities for enterprises and services providers who are ready to modernize their communications strategies. This article is a summary of the full analysis, which can be downloaded for FREE (as it is sponsored by CCM vendors Assentis, Ecrion,and Messagepoint) at this link.
The Current State of Cloud in CCM
The growing popularity and influence of cloud computing has undoubtedly been one of the most relevant and far-reaching developments in the CCM space in recent years. The cloud industry is rapidly moving to containerization and serverless architectures, which means that vendors no longer need to worry about the latest Windows or Linux server on which their software runs. Instead, they can make their software available in containers (i.e., Kubernetes) that run on specialized software (i.e., Docker) which isolates the application from the operating system. It looks as if the application has its own instance of an operating system but in reality, it's software like Docker that enables multiple containers to run on a single operating system. By installing such an application on several hosts, and by leveraging Kubernetes containers or nodes, CCM vendors can automate container provisioning, networking, load-balancing, security, and scaling across all these nodes from a single point of control. This makes it easier for CCM vendors to maintain their code base in a single place, helps them deploy updates faster, and provides more innovation than the traditional on-premise/update model.
Because containerization has made deployment flexibility much more viable, enterprises are increasingly considering serverless architectures to future-proof their CCM investments. Through containerization, CCM vendors are developing software once that can then be easily deployed across a range of options (including AWS, Google Cloud, Microsoft Azure, or customers' own servers running VMWare) that can all be controlled and managed from a central platform. A hybrid deployment could be ideal for enterprises that are not yet comfortable enough to process personally identifiable information (PII) in a public cloud environment. Using this option, they can specify which components need to run on-prem and which can run in a public cloud. In some models, rendering is done in a public cloud (because of the advantages in scalability) but no output is written to disk. Other organizations are willing to write output to disk in a public cloud, but insist that the data must be deleted after a set period.
Pure Cloud for CCM
The cloud is a concept that is continually evolving. The latest developments in containerization require vendors to rethink how they build their solutions, and it's a fundamentally different notion than installing monolithic systems on a rented server or even on a virtual private cloud. To differentiate between those two versions, we at Aspire have begun to use the term "pure cloud" in reference to vendors building CCM solutions that have been purposely developed for containerization and with deployment flexibility in mind. Be aware that "cloud-based" vendors who simply install their monolithic applications on a virtual machine in a public cloud environment will not be able to fully address the evolving needs around the hybrid cloud we've described. The benefit of containerization and microservices is that software can be created at more granular level. We like to see them as "Lego bricks" that can be used by business analysts or enterprise architects to build the right solution for their organization.
The Need for Integration
CCM software is front-office experience technology that allows enterprises to provide communications to its customers at scale. To successfully extend those communications throughout the customer journey, CCM software must be connected to the back-office (business processes, core banking systems, insurance systems, and even customer relationship management systems). There are several options for enterprises to connect their systems, but iPaaS solutions are becoming the most popular because they enable to management of integrations at scale.
Integration Preferences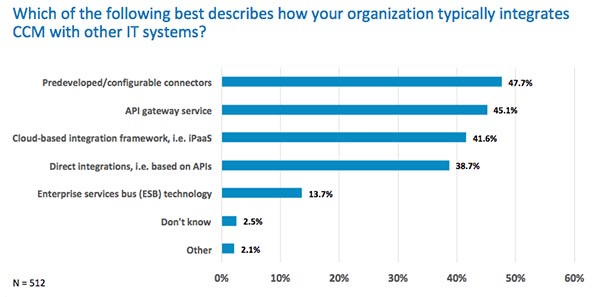 Source: Aspire, The State of CCM-to-CXM Transformation, 2019
In addition, some pure cloud vendors are creating online marketplaces where users can download modular extensions to their platforms. Aspirational vendors in this area, like Ecrion, are allowing their customers to build business apps themselves that can then be published on the marketplace for the benefit of the wider community.
Cloud is Maturing and Meeting Regulatory Standards
There has been a consistent misconception that data is less safe in the cloud, but according to a recent AWS whitepaper, physical location has little to no bearing on threats propagated over the Internet. Human error or intentional malicious behavior by individuals using authorized accounts are responsible for most breaches. Cloud computing for CCM has been greatly impacted by recent developments in regulations. The number of regulations that are relevant to consider differ by use-case and industry, but common ones include GDPR (and its various equivalents in national and regional governments across the globe, including California's CCPA), HIPAA, PCI DSS, PSD2, FISMA, and SOX.
The Shift to Subscriptions
As the market continues its progression from IT-led communications strategies toward a faster and more interactive CXM ecosystem, Aspire believes an increasing number of communications strategies will be provisioned through cloud-based, micro-services architectures. Our September 2019 survey entitled "The State of CCM to CXM Transformation" found that the most mature organizations (those that have achieved CXM) were the most likely to prefer to secure CCM services through subscriptions. Those in the middle of their evolution (with the Line of Business in charge of communications) were the most likely to say that they are in the process of switching to a cloud/subscription model.
CCM Purchase Preference by Maturity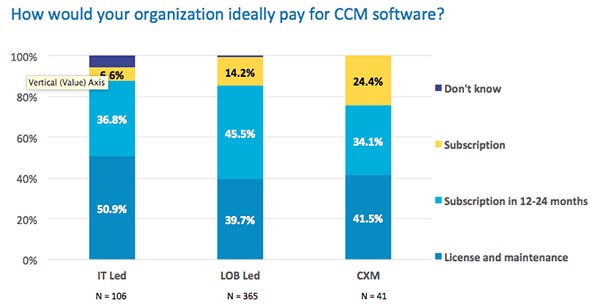 Source: Aspire, The State of CCM-to-CXM Transformation, 2019
Across all the surveyed organizations, job roles, and verticals, CCM purchase preference is shifting toward subscriptions. While only 13% of businesses preferred to pay for CCM software through a subscription in 2019, more than double that amount reported that they expect to move to subscriptions by the end of 2021. The motivations behind cloud migration and purchase preferences vary by evolutionary maturity. For instance, when IT-led organizations begin moving CCM to the cloud, they are working to reduce operational cost, increase security, comply with regulations, and manage risks. They often prefer buying perpetual software licensing because it keeps expenses predictable.
Enterprises with a more advanced digital maturity typically have the LOB, shared service, or CX teams act as the key buyers in CCM. Often, they need to reduce "business-as-usual" spend in order to free up cash for digital transformation initiatives. An OPEX model works better in these scenarios since they won't need to tap into IT budgets. Consumption-based pricing may be a good fit for buyers at this level because they often prefer a cloud/subscription model that allows them to circumvent not only high capital outlays, but also long cycle times and bureaucratic red tape. The cloud's instant scalability and faster integration, combined with a scalable pricing model and the low cost of performing a proof-of-concept, allows these buyers to experiment at low cost and find the solutions that best fit their needs.
Key Takeaways
As a result of advances in cloud computing, there are now many different types of cloud solutions for CCM. When evaluating them, enterprise buyers must consider the benefits that containerization, micro-services, scalability and deployment flexibility offer them to innovate, experiment, and ultimately find the cloud-based CCM solution that best fits their organization. In a time of accelerated and unprecedented change (such as we are seeing now in the wake of the COVID-19 pandemic), currently accepted best practices may soon fall out of date. Especially now, it is imperative for enterprises and the providers and software vendors who serve them to understand the benefits that modern cloud solutions bringto B2C communications, and by extension, customer experience, and overall profitability.