Although the current market outlook is rather bleak, there are avenues that savvy PSPs can explore.
Automation can reduce touchpoints and prevent wasting the time of skilled workers.
Smart print manufacturing can also be beneficial, but it is currently much more popular in Europe than it is in North America.
Establishing a better understanding your cash flow and income can help set you on a growth path.
By Mark DiMattei
Introduction
The COVID-19 pandemic is at the forefront of everyone's mind. It is affecting every industry, from food service and hospitality to mobile technology. Although revenue streams are changing as a result of social distancing and self-quarantining, print service providers (PSPs) can find a way to move forward and regain some of their lost income once these difficult times are behind us.
During previous upheavals, printing companies with a long-term vision, a willingness to adapt to change, thoroughly planned operational executions, and strong financials were able to pivot and uncover new opportunities. At the same time, however, many PSPs still struggle to onboard, manage, and produce many small jobs while meeting or exceeding service-level agreements (SLAs). Finding a way to overcome these challenges can help recover any losses that are experienced during these trying times.
Breaking the Bottlenecks
Many PSPs struggle to implement flexible workflows that support the growing number of smaller jobs. According to ongoing research from Keypoint Intelligence – InfoTrends, PSPs report that their businesses are moving toward shorter runs. This is taxing their onboarding, job scheduling, load balancing, printing, and finishing capabilities.
Investing in automation is one way to remove some of these stressors. Reducing the number of touchpoints allows skilled employees time to work on more important projects and can reduce the risk of human error. When Keypoint Intelligence asked PSP respondents in North America and Western Europe about their current levels of automation, roughly a third reported that manual processes persisted in most or all departments. Only 21% of North American and 13% of Western European respondents said that their processes were mostly or fully automated. It is clear that there is much room for improvement with workflow automation.
Current Level of Automation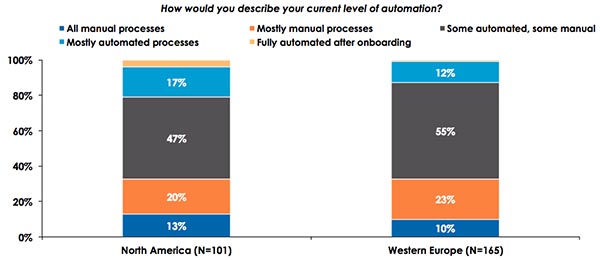 Source: North American/Western European Software Investment Outlook Surveys; Keypoint Intelligence – InfoTrends 2018
You Need to Be Smart!
Smart print manufacturing (SPM) techniques can relieve the impact of the current economy as well as the changing nature of job run sizes, the greater level of variability in commercial jobs, and even the growing use of variable color in transaction print jobs. Adding a master workflow automation architecture eliminates the need for multiple/highly customized workflows. Once these workflow constraints are eliminated, it becomes easier to take on new types of work.
Unfortunately, SPM is not yet widespread among PSPs in North America. Although government initiatives in Western Europe have met with support, those in North America have not enjoyed the same level of success. According to Keypoint Intelligence's research, 57% of North American PSPs are unaware of SPM versus 8% in Western Europe. This means that North American print shops attempting to compete in an increasingly global marketplace are at a disadvantage. Exploring this avenue might enable a PSP to remove itself from a dangerous financial area.
Keep Your Money on Your Mind
At the end of the day, we all know that there must be enough cash flow for a business to be successful. This cash flow is even more critical for newer businesses, which may have irregular sales or difficulty managing their accounts receivable amounts. Based on Keypoint Intelligence's research, declining PSPs had to place a greater focus on collecting money from customers and cash flow. Meanwhile, growing PSPs were focusing on monitoring gross and net profit margins. They were also acutely aware of their cost of goods sold (COGS). Understanding COGS is key for controlling direct costs (e.g., materials and labor) that can make printing more expensive.
The Bottom Line
With more data available than ever before, PSPs are challenged to separate critically important data points from the unimportant masses. Over the next decade, technologies will likely become more powerful than ever before even as the media landscape changes. If the past has taught this industry anything, it's that media preferences and consumption habits can be disrupted and displaced over time.
New technologies that come to market will intelligently capture mission-critical data and be able to take independent and immediate corrective action—which is the ultimate goal of autonomous print production and smart print manufacturing. The adoption of SPM will likely hasten the race to become well-known in the printing industry. Lesser-known PSPs can plan for their future by developing nimble, efficient workflows that stand out from the crowd. Regardless of stature, all PSPs must find a way to overcome the challenges of a global pandemic and customers that may be hesitant to continue with business as usual.
Mark DiMattei is the Manager of Keypoint Intelligence – InfoTrends' Publishing, Editing, and News department. In this capacity, he oversees the editing, formatting, and publication cycles for many different types of deliverables. He also assists in the production of blogs, analyses, research reports, and multi-client studies.