Thought Leadership Video Series
Highcon Shares Latest Developments And New Applications
Published on April 22, 2015
Highcon's COO Miki Zimmer and Nigel Tracey, Sales Director, speak with Senior Editor Cary Sherburne about advances with the Highcon Euclid digital finishing solution and some unique applications customers have created.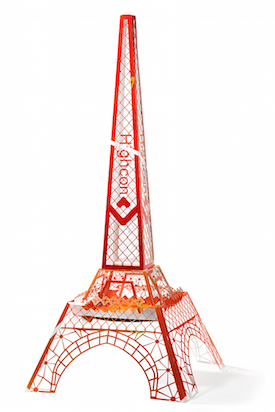 Intricate Cutouts Made by the Highcon Euclid
The Eiffel Tower is an example of the extensive capabilities of the Highcon Euclid digital finishing solution.
The Highcon Euclid allows converters, printers, and brand owners to transform finishing into a value-added process that positively impacts profitability.
Highcon Euclid machines digitally finish labels and paperboard from 8-24 pt. (0.2 - 06m) and microflute up to 47 pt. (1.2mm), including creasing, cutting and etching.
View more Highcon Euclid examples
Visit Highcon.net for more information about how Highcon digital finishing can help you with:
New Business Growth
New customers
Existing customers
Differentiation
Customer Retention
Process Improvement
Saving money
Time to market
Connect with Highcon at www.highcon.net and on Twitter, Facebook, YouTube, Pinterest, and LinkedIn.
Post a Comment
To post a comment Log In or Become a Member, doing so is simple and free