Production Inkjet News and Analysis
This topic section of WhatTheyThink focuses on emerging trends in the rapidly-growing area of production inkjet. It features commentary and analysis on technical and business trends relative to the ability for production inkjet.
Two technology leaders want to take digital printing for packaging to the next level—and to several levels after that—with a 110-inch-wide web inkjet press specifically for the corrugated market.
---
As the production inkjet market continues to gain traction, more choices are coming to market, many of which were first shown at drupa 2012. As we approach drupa 2016, there is no doubt that a growing number of production inkjet solutions will be making their way to commercial availability. Delphax elan is one of those.
---
The choice of a digital front end (DFE) is perhaps one of the most overlooked decisions in the purchasing process. In some cases, there is only one choice. But for a wide range of toner-based digital presses, two (or even more) options are available. Senior Editor Cary Sherburne spoke with a number of printing professionals to better understand how they are approaching this decision and what criteria they use. Read more for advice from the front lines.
---
Production inkjet held center stage at Graph Expo 2015, proving that has gone mainstream. Senior Editor Cary Sherburne looks at some of the announcements and the North American debuts for this game-changing technology.
---
In an increasingly complex and demanding printing environment, color management is critical. Senior Editor Cary Sherburne spoke with Canon Solutions America executives to learn more about how Canon is approaching this issue.
---
Are inkjet presses a disruptive technology? This article will discuss the definition of a "disruptive technology," determine if the data surrounding inkjet presses fulfills the criteria, and explore the ongoing impact of production inkjet printing.
---
Parents know this refrain well – "Are we there yet?" – just as they know the answer – "In a little while." I spend my working life with printing technology and have heard this for many years. In the case of inkjet, this is a recurring theme. And while we are not there yet, we are getting much closer.
---
Digital printing for packaging has room to grow and the means to achieve that growth. There was plenty of room for discussion about making it happen at a recent symposium of experts in Tampa.
---
ANRO Communications is well-known in the printing community for its innovation and thought leadership position. In this article, sponsored by HP, Paul DeSantis, ANRO's Director of IT, talks about how production inkjet has future-proofed the company's business.
---
During the 2015 Inkjet Summit, service providers acknowledged that much of the innovation in their markets was done in collaboration with customers and driven by the dynamic changes in the clients' specific businesses. This article explores how inkjet technology is delivering key advantages to transactional printing, direct mail marketing, and publication printing applications.
---
What's The Latest On The Konica Minolta KM-1?
Published: January 14, 2016
Gavin Jordan-Smith, VP of Solutions & Production Planning at Konica Minolta, shares the latest info on the KM-1 production sheetfed inkjet press developed in partnership with Komori. Key features: extremely high quality and productivity, no pretreatment of stocks, and suitable for commercial print and packaging applications. Due for commercialization in early 2016.
AddComm Direct on Transitioning Toner to Production Inkjet
Published: December 21, 2015
WhatTheyThink's Eric Vessels talks to Leonie van der Veen, Director of Operations at AddComm Direct in the Netherlands. AddComm Direct specializes in creating integrated solutions including print, web, and mobile applications used in multichannel communication. In recent years the company has invested in production inkjet and transitioned 70% of its production from toner to inkjet.
Make Finishing System Decisions Early in the Digital Press Investment Cycle
Published: December 16, 2015
Andy Fetherman, Director of Digital Solutions at Muller Martini, speaks with Senior Editor Cary Sherburne about where finishing equipment decisions should fit into the digital press investment cycle. Begin with the end in mind and scalability is key!
TJ International's Angus Clark on Transitioning Book Production to Production Inkjet
Published: December 10, 2015
WhatTheyThink's Adam Dewitz talks to Angus Clark, CEO at TJ International about transitioning book production from offset to production inkjet.
Fast-Turnaround Production Of Church Bulletins Benefits From Production Inkjet
Published: November 25, 2015
Liturgical Publications is leveraging production inkjet as an offset replacement technology for its church bulletin publishing business. Hear what Ken Shanovich, Operations Manager, has to say about this transition.
SCI Uses Production Inkjet To Help Advertisers Reach Individual Subscribers
Published: November 12, 2015
New Jersey based Strategic Content Imaging (SCI) has leveraged production inkjet printing to deliver innovative services to its publishing, healthcare and other clients. Hear what Dale Williams, Executive Vice President, has to say about their work with Hearst and others to deliver a personalized blend of advertising and direct mail for magazines.
Crit Driessenon on Canon Océ's Strategy and Product Roadmap for Commercial Printing
Published: October 8, 2015
WhatTheyThink's Adam Dewitz talks to Crit Driessen, VP Strategy and Alliances at Canon's Océ Printing Systems about the continous feed production inkjet strategy Canon has put in place to go after the commercial printing market.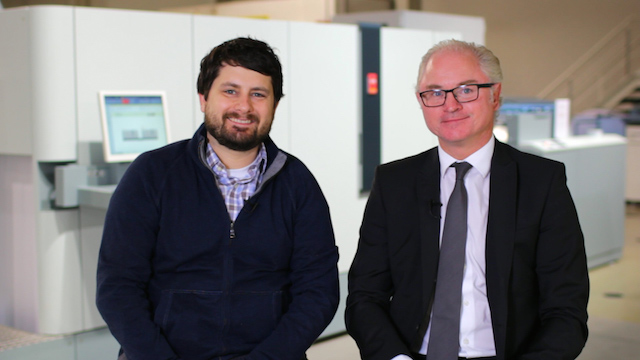 Highlights from the Commercial Printing Business Days Hosted by Canon Océ
Published: October 5, 2015
WhatTheyThink's Adam Dewitz talks with Christian Unterberger, Executive Vice President at Océ Printing Systems, a Canon Company, about the recent Commercial Printing Business Days held in Poing, Germany. Printers from around the world took part in the 3 day event to see the latest in continuous feed solutions from Canon Océ.
Xaar's Mark Alexander on the Adoption of Digital Printed Labels
Published: September 29, 2015
WhatTheyThink's Pat Henry talks to Mark Alexander of Xaar on the adoption of digitally printed labels, what is holding adoption back, how production inkjet is changing the the outlook for digitally printed labels, and the future of direct to shape printing.
Darrin Wilen on Direct Marketing, Changes at Wilen Direct, and Production Inkjet
Published: September 3, 2015
Senior Editor Cary Sherburne speaks with Darrin Wilen, President of the Wilen Group, a New York based direct marketing company about changes in direct marketing and recent changes to its Wilen Direct business.