Production Inkjet News and Analysis
This topic section of WhatTheyThink focuses on emerging trends in the rapidly-growing area of production inkjet. It features commentary and analysis on technical and business trends relative to the ability for production inkjet.
Printing and mailing customer communications, statements, and bills is a critical business process that can benefit from outsourcing. This article explores how BMS Technologies is capitalizing on the transaction document outsourcing services opportunity by supporting its customers' ever-changing needs and investing in inkjet technology.
---
Advances in inkjet technology have print service providers asking "not if, but when" they should invest. This article highlights recent interviews with a number of inkjet users to find out the critical strategies they are following to accelerate their organization's path to profitability.
---
Xeikon Café marked some significant Xeikon announcements, including the company's entry into the production inkjet business and a leadership transition. The event, held at Xeikon headquarters in Belgium, drew more than 800 unique international visitors and was supported by about 40 partners.
---
Thomson Reuters Core Publishing Service focuses on short and long runs of monochrome legal and other publications on lightweight papers. Adding a HP PageWide Web Press T360 with an inline Magnum Flexbook has significantly improved efficiencies for mid-sized to short runs. Learn more in this article sponsored by HP.
---
In this article, David takes a look at Konica Minolta and the company's new strategy relative to Production Inkjet, Industrial Print, and building a Software eco-system, with a different approach than its competitors.
---
Despite occasional clouds on the horizon, there is no better place than drupa to get a first hand sense of the continuing importance and scale of the printing industry. The baton has passed from the offset press manufacturers to the digital printer manufacturers, with HP having replaced Heidelberg as anchor tenant and champion of print at drupa 2016.
---
The overriding message for drupa 2016 is that inkjet is now ready for prime time across a range of applications and is positioned to displace key conventional printing processes. This article provides a brief overview of the factors that will drive the expansion of the inkjet market during the drupa event and beyond.
---
In this article, David looks at the current state of Xerox. The integration of Impika has produced some exciting collaboration, resulting in some new product introductions at drupa 2016, and perhaps a glimpse of the company's future direction
---
KBA and Xerox have created a partnership to create a unique B1 sheetfed Production Inkjet Folding Carton Press. This new relationship allows KBA to continue to build the production inkjet product line to support the transition of its clients to the opportunities that production inkjet affords them. For Xerox, it expands the reach of its inkjet offerings beyond its smaller format production presses.
---
Since its founding in 1983, Impact has been providing services in direct mail, fulfillment, data management, critical documents, e-mail marketing, creative, and print management to drive marketing communications. This article provides a brief overview of how the company's expertise in applied technology, analytics, and production services can help its customers connect with their clients.
---
Landa Digital Printing Shares North America Rollout Plans
Published: May 17, 2017
Nachum Korman, VP and GM, North America for Landa Digital Printing lays out the strategy for building a US sales and support organization, and discusses the three recently announced beta sites including the first installation in the US at Imagine! in Minneapolis, MN later this year.
Xeikon introduces their first UV Inkjet Label Production Printer
Published: March 28, 2017
Xeikon was one of the earliest entrants into digital label printing with their electrophotographic dry toner based production systems. Since that time, others have entered the market with a variety of electrophotographic and inkjet technologies and products. Xeikon is now ready to take their expertise in label production systems to the next level with their first UV inkjet production printer offering.
View the latest production inkjet news from Screen
Published: March 20, 2017
Aron Allenson, Sales Support Specialist for High Speed Inkjet at Screen, talks about how new SC inks from Screen allow inkjet printing to commodity offset stocks without pretreatment. The ink is used in the Truepress JET 520 HD. He also explains the next generation of Truepress JET presses, the Truepress JET 520 NX, just released.
Bringing Finishing into the Fold at Canon Solutions America
Published: March 14, 2017
Michael Poulin, Director of Product Marketing at Canon Solutions America, share's his thoughts about Canon's finishing partner strategy. The goal is to provide an integrated and automated end-to-end solution for applications in the graphic arts industry, such as book printing, Book of One, and more. He also talks about the mix of inline versus near-line finishing he has observed in the field.
Production Inkjet: How Do We Work The Economics?
Published: March 13, 2017
Cheryl Kahanec, President of Marketing Solutions at EarthColor, talks with Senior Editor Cary Sherburne about the progress that has been made in production inkjet technology since the first "inkjet drupa" in 2008, calling drupa 2016 the inkjet drupa on steroids. The challenge now is working the economics -- balancing toner, inkjet and offset.
HP's Eric Wiesner Explains New Addition to Production Inkjet Portfolio
Published: March 1, 2017
At Hunkeler Innovationdays, HP announced the HP Pagewide T235HD, positioned as a more entry level device as compared to the Pagewide T240HD. General Manager of the HP Pagewide Industrial Division explains the difference and the strategy behind the product.
Ricoh's Production Inkjet Strategy and Expanded Product Portfolio
Published: February 24, 2017
Senior Editor Cary Sherburne interviews Mike Herold, VP of Marketing at Ricoh about the company's production inkjet strategy and product portfolio. Ricoh recently announced the Pro VC40000. This new inkjet platform is designed for mid-volume high quality transactional and direct mail applications.
A Look Inside the Kodak Booth at Hunkeler Innovationdays
Published: February 22, 2017
Randy Vadagriff, VP of R&D for Enterprise Inkjet at Kodak, gives us an overview of the Kodak booth at Hunkeler Innovation Days. Featured are the Prosper S-Series Imprinting System, the Prosper 6000C Full Color Press, as well as Ultrastream technology unveiled at drupa.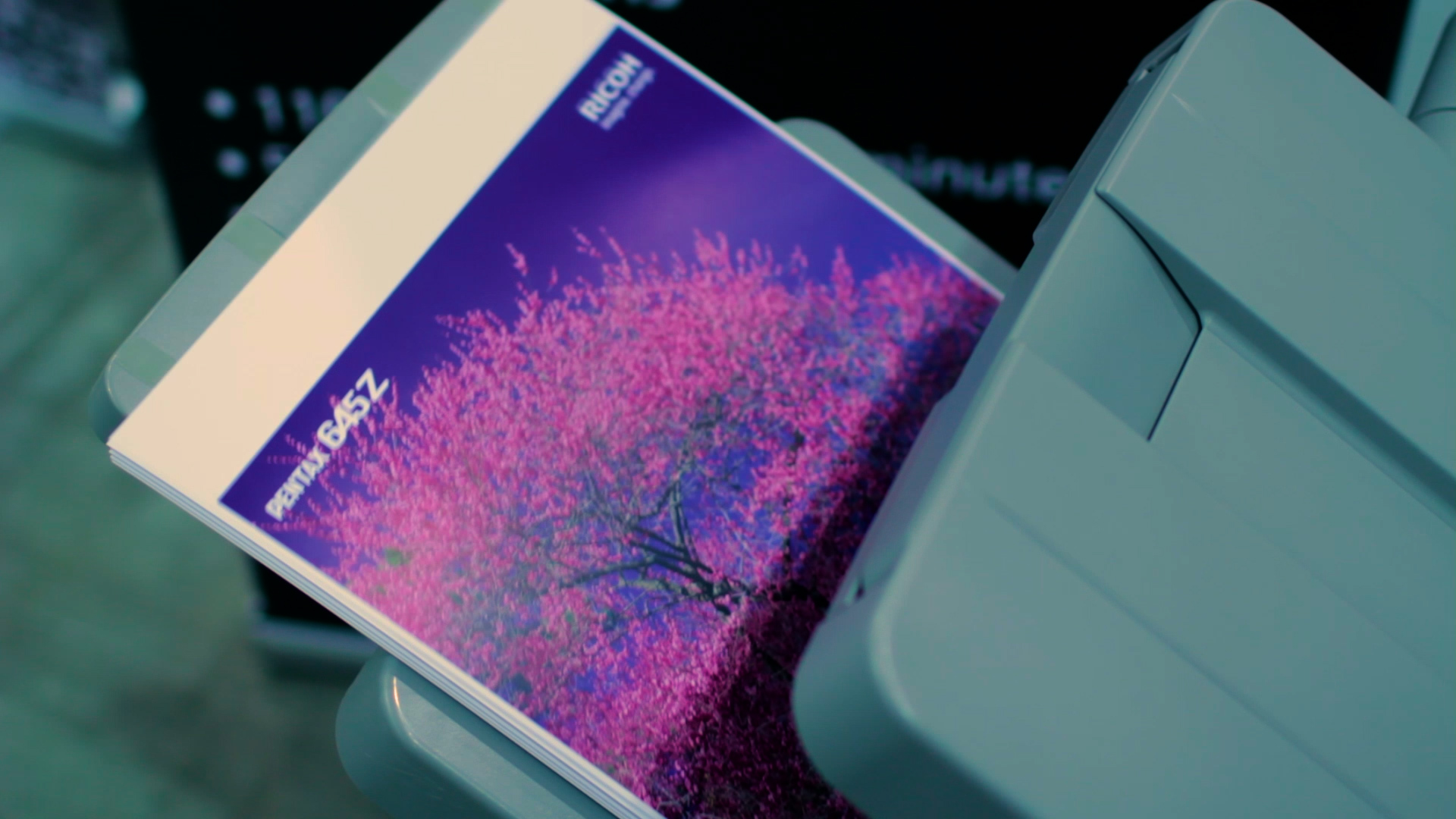 Take a Tour of the Ricoh Booth at Hunkeler Innovation Days
Published: February 21, 2017
Ricoh's Mike Herold, Eric Staples, Nick Fiore, and John Blyth take us on a tour of the Ricoh booth at Hunkeler Innovation Days. They discuss the VC60000, Pro C9110, and software solutions.
The Impact of Production Inkjet on Thomson Reuters Core Publishing Solutions
Published: January 11, 2017
Thomson Reuters Core Publishing Solutions in Minneapolis, kindly hosted the WhatTheyThnk team to view the digital transformation the operation is undergoing. Larry Soler, its Director of Prepress, Press and Digital, explains that while offset will be a core functionality for the foreseeable future, web and sheetfed production inkjet is driving change, including a 3-to-1 replacement of toner devices and migration of shorter runs from offset to digital.