MAXSON Offers High Speed Automatic Web Splicer
Friday, February 07, 2020
Press release from the issuing company
MAXSON AUTOMATIC MACHINERY COMPANY offers an automatic web splicer engineered for increased productivity, produces highly reliable splices and reduces waste while saving time and labor. The splicer can be integrated into new installations or retrofitted to existing lines. The splicer can accommodate rolls up to 84" (1828 mm) in diameter and 90" (2285 mm) wide. Using the menu driven controls, the splice initiation can be automatically set to a preset roll diameter or a lineal footage (meters).
Splicer-in-Operation
Infeed idler rolls equalize the tension across the web and double the web length between the roll core and point of splicing thereby allowing higher speeds to be maintained during the splicing process. Pneumatically loaded rollers create a high pressure rolling nip that makes certain a secure splice, while the process line is approaching speeds of 1000 fpm (330 mpm). A driven caption roll assists the new roll's web in accelerating to line speed quickly after a splice is made. Using a dancer roll system and programmable logic controller, web tension is automatically and consistently maintained.
Splicer-Roll-Loaded
The splicer is engineered for simplified operation and reliability of joining together webs of two rolls without stopping the sheeter. Ergonomically designed to suit the Operator, the threading of the splicer eliminates special web maneuvering and manual indexing from floor level. Using pneumatic clamps, the beginning of a roll is held in place to allow the Operator to easily make a double backed lap splice.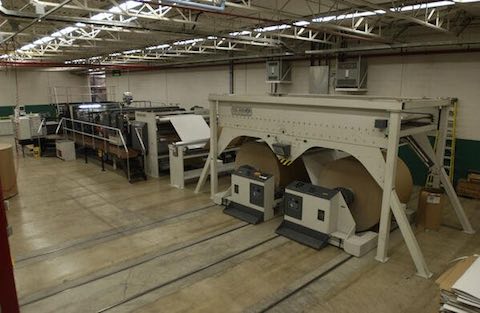 MAXSON's Automatic Web Splicer completes the splice between an epiring roll and a new roll in less than 3 seconds while running at maximum line speed.
To post a comment Log In or Become a Member, doing so is simple and free