Gurnee, Ill. – Domino continues to grow and invest in resources for their digital printing business with the appointments of several new hires in Service & Support roles within North America. Two of the new personnel are for Help Desk and Phone Support.
Glen Hayden & Ernest "Ernie" Wilson join Domino as Technical Support Analysts, Digital Printing North America. Glen and Ernie's responsibilities include handling phone support and escalations.
Glen Hayden comes to Domino with 12 years' experience as a senior applications sales and technical support specialist for Honeywell. Previously, Glen spent over 20 years in the US Navy, spending much of his time on carriers (USS Nimitz, USS John F Kennedy) and the USS Florikan, a Chanticleer-class submarine rescue ship. During his time in the US Navy, Glen earned numerous professional certifications. He was an electrical officer overseeing the installation, maintenance, and upkeep of all electrical and electronics systems. Prior to leaving the US Navy he was a Recruit Division Commander. Glen has an MBA in Leadership and Management, and a Bachelor of Science degree in Electronic Systems Technology Management.
Ernie Wilson comes to Domino with over 15 years of field experience in troubleshooting, repairing, maintaining, calibrating and testing a wide variety of medical and manufacturing equipment. His past 5 years has been as a field service engineer with Videojet, and he provided help desk support as well. Ernie has an Associates of Science degree in Electronic Engineering.
"Very excited to have Glen and Ernie on our team. The appointments of these exceptional individuals illustrate another example of Domino enhancing and developing the service & support organization for our growing customer base, and the focus in providing an excellent customer experience," says Steve Daily, Technical Support Manager.
Domino is a leading manufacturer and distributor of digital printing and product identification solutions. Celebrating its 42nd year in business, Domino is a global organization with world headquarters in the UK, and North America headquarters in Gurnee, IL. Domino has 25 subsidiaries, representation in over 120 countries, and over 2,800 employees worldwide. For more information on Domino, please visit dominodigitalprinting.com.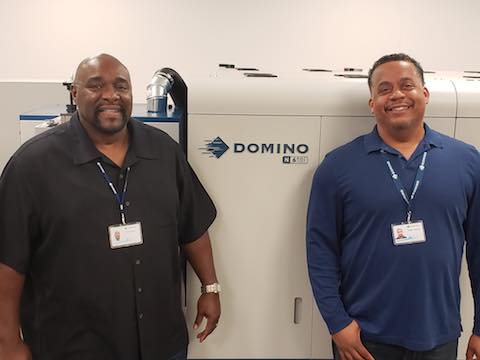 (Left to Right): Glen Hayden and Ernie Wilson.