Krefeld – Baumer hhs is an Advanced Partner of the touchpoint packaging special show at drupa 2020 (16 - 26 June, Düsseldorf/Germany). As the market-leading supplier of innovative adhesive application systems to the folding carton, print finishing and other industries, the company based in Krefeld/Germany has years of know-how with which it is shaping the future of packaging production – and which it will be contributing to this Messe Düsseldorf project. At the touchpoint packaging special show, Baumer hhs will be focussing on sustainable resource management for tomorrow's packaging production process.

«We're very pleased that as a touchpoint packaging partner, we'll have a special forum at drupa 2020 where we can join with others in the industry and showcase our ideas for enhancing sustainability and achieving an eco-friendly, future-oriented packaging production process», says Andreas Brandt, Marketing Manager at Baumer hhs. The company, he adds, is presenting two projects at the special show that will meet the high expectations of organisers and visitors alike.

«The less glue you use in packaging production, the better the environmental footprint of an individual product and the overall process. Optimising adhesive consumption in industrial applications has long been one of our core competencies, and over the years we've launched a series of pioneering solutions on the market. At the touchpoint packaging show, we'll be demonstrating how packaging manufacturers can reduce their adhesive consumption without compromising on the quality or durability of glued joints. We'll also be presenting our GlueCalc smartphone app, which helps manufacturers to quickly and easily calculate how much they can reduce costs and CO2 emissions by gluing packaging with dots instead of beads of glue», Brandt continues.

In a second project, Baumer hhs is demonstrating ways to eliminate UV tracers and colourants from packaging production in future. «Using UV tracers and colourants in the production of packaging materials can disrupt the fibre cycle and cause unwanted contamination of food packaging. If these substances can be eliminated, food-grade packaging manufacturers can significantly increase process safety, with the benefits extending to brand owners and consumers as well», Brandt explains. «Baumer hhs will likewise be exhibiting innovative solutions for mastering this challenge at the touchpoint packaging show».

The touchpoint packaging hotspot at drupa 2020 is located in a dedicated area of Hall 3. For more information on this special show, visit https://www.drupa.de/de/touchpoint_packaging_2020.

In addition to participating in touchpoint packaging 2020 in Hall 3, Baumer hhs will also have its own stand at drupa 2020 in Hall 6 (Stand A40), where it will be exhibiting innovative adhesive application and quality assurance solutions for various industries, including folding carton and print finishing.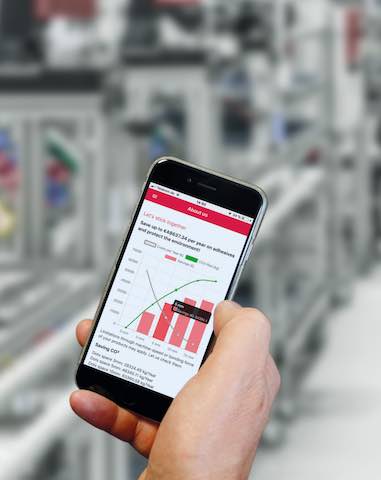 Easy calculation of glue and carbon savings with GlueCalc.