The Customer's Journey-How A Sales Manager Can Propel Elevated Growth and New Market Opportunities
Wednesday, January 15, 2020
Press release from the issuing company
Koenig & Bauer's holistic method---from initial consult through press life cycle---is differentiating factor in today's complex market environment
Trusted advisor approach forms partnerships for customer's growth
Koenig & Bauer (US) sales team's experience yields on average 25% growth for their customers
New technology, proactive services, consulting, and marketing advice are additional bonuses
When an industry is changing quickly over a number of decades, what is the most important assistance to be found? It is to identify a top-notch knowledgeable sales manager who can professionally navigate the latest technology and partner with a customer's business to uncover new opportunities that lead to expanded growth.
Sam Creel, one of Koenig & Bauer's experienced veteran sales managers with more than 30 years in the printing and graphic arts industry, epitomizes the expertise and knowledge of the North American sales team, which provides strong partnership, understands customer needs, advises on new key industry trends, and opens market and production opportunities.
What differentiates a Koenig & Bauer sales manager?
Like many of Koenig & Bauer's sales managers, Creel has seen his career begin with a solid technical background. As he was earning a degree in electrical engineering, he took a junior position at a local printing firm. After graduation, he continued in the industry as a pressman and shift supervisor. This experience caught the attention of Koenig & Bauer, which hired Creel as a press demonstrator out of Memphis, then promoted him to regional service manager. All of this knowledge led Creel to move into press sales in 1999. Throughout the past 20 years, Creel has grown the Southeast region with solid sales relationships, serving printers in all market segments.
"One of my most consequential jobs was as a press demonstrator," relates Creel. "It was very exciting to move every few weeks to a new town and a new customer where we would help them start up their press and educate them on its features. I was all across the country, which gave me the solid background to introduce myself to customers, see in-depth what their facility was like, and make solid long-lasting relationships with them. To this day, I still continue to see the customers from my demonstrator days."
"Over the past 20 years, the industry has changed so rapidly, we're introducing more innovative technology and the presses and features are more complex," says Creel. "As a sales manager at Koenig & Bauer, we operate as a skilled team incorporating the knowledge of product and application management, operational efficiency experts, and our strong technical teams to provide industry's most invaluable resources to our customers. It's important to me and my colleagues to drill down and anticipate a customer's needs. We become a crucial part of their team and help to design a unique configuration that increases their sales, reduces their costs, and differentiates them from their competition. Over my many years, I've been proud to see a 25% growth on average among my many customers."
How has Koenig & Bauer added new value for its customers?
While Koenig & Bauer is celebrating more than 200 years in the industry, it continues to discover new avenues to add value for its customers, which entails new applications and special relationships with Customer Service Specialists. Its sales managers can now offer first class post-press equipment through its newest acquisitions Iberica and Duran. "Having this depth of products gives us more opportunities to fully engage the customer," says Creel. "Now we can be all inclusive, especially for our folding carton customers, offering the industry's best printing presses as well as top of the line die cutters and folder gluer lines."
What is it like working with a Koenig & Bauer sales manager?
Investing in a printing press requires thoughtful examination. It is not like purchasing a commodity, such as clothing or furniture, because it is a valuable, very expensive, long-term asset that is a critical part of a business. The sales process, says Creel, usually takes 12 months of complex analysis on the dynamics of the customer's business. The customer's journey requires analysis to ensure all long-term goals are met.
"We become trusted advisors to each of our customers," says Creel. "For us, it is not selling but consulting. Our goal is to assist them in making the best decision possible and crafting specialized contracts. We build strong enduring relationships with our customers and develop true friendships. We might be selling printing equipment but it goes much further than that. We get to know their families and oftentimes socialize with them for a long term partnership."
Why is Koenig & Bauer unique from its competitors?
"The North American sales managers feel like we are part of a family," says Creel. "Working here is not like any other company. We take great pride in being a family managed business with an outstanding CEO who is very involved in the industry and our customers. It is a great honor for all of us to represent this company and stand behind our products. Our name and reputation garner instant credibility. It is very rewarding and fun to watch it continue to grow."
Creel is proud that Koenig & Bauer is more than a premier printing press manufacturer. "Our customers have high expectations of the services they should receive," he says. "While an excellent product and outstanding service are a mainstay and remain pillars, Koenig & Bauer has pushed beyond its competitors to offer a holistic experience that focuses on every aspect of the sales and press ownership process."
Another bonus? Retaining any of Koenig & Bauer's expert sales managers means that a customer receives a full entourage of the industry's leading experts. "We only hire the best of the best," says Creel.
What do Koenig & Bauer customers have to say?
Not only have the Koenig & Bauer presses been a boon to Southern Champion Tray but the sales representatives, service technicians, and management have contributed to the positive relationship. "Koenig & Bauer is an excellent partner with good people throughout the organization," says John Zeiser, SCT's president. "They understand our business and they have demonstrated a willingness to go beyond the contract in making sure that we are satisfied. Our sales manager, Sam Creel, has consistently provided us value that is above and beyond the purchase price."
Hederman Brothers: "We had a very complex contract for our Rapida press and Sam provided us with value throughout the process. As we worked together, there were certain features that we required, and Sam was able to exceed all of our expectations."
Meredith-Webb "Having a press specially configured our way allows us to crossover in all three markets that we serve: commercial, packaging, and direct mail," says Kelly Webb, executive vice president at Meredith-Webb. "Our Koenig & Bauer sales manager, Sam Creel, brought us ideas on how the press could be specially built and explained how the press could expand our customer base. He became a true partner in our business."
In the end, business is more than a financial transaction. It is about people dealing with people and being defined by their actions. Koenig & Bauer takes great pride in having the industry's best sales team experience that provides the ultimate customer journey and contributes to its long-term financial success.
For more information visit the company's web site at www.koenig-bauer.com.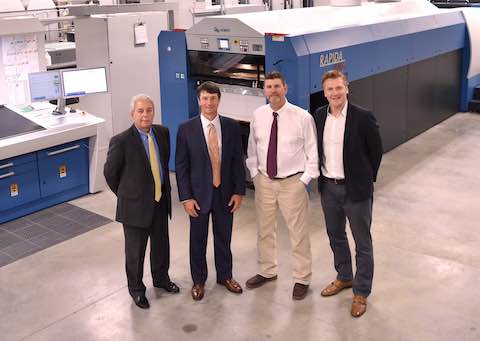 From left to right: Sam Creel, Koenig & Bauer regional sales manager; partners with customers such as Doug Hederman, CEO and president of Hederman Brothers; and John Shaw, printing manager at Hederman Brothers; assisted by Chris Travis, Koenig & Bauer director of technology, at the firm's facility.
To post a comment Log In or Become a Member, doing so is simple and free