Star Unveils Logo & Brand Refresh in Advance of 2020 Website Relaunch
Monday, January 06, 2020
Press release from the issuing company
Chicago, Ill. – Star Incorporated, a trade show and event solutions provider of custom exhibits and event services with more than 50 years of proven success and longevity in the industry, is proud to announce the official unveiling of its logo refresh, part of the company's rebranding andwebsite redesign.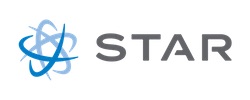 The refreshed logo—designed by Star's in-house marketing team—is meant to reflect both familiar elements of their previous brand while conveying a more current modern image to reflect the progressive direction of the company's core competencies.
As the trade show, exhibits, and event sindustry forges ahead into a new decade with renewed focus on innovation, customer engagement, and creative advancement, so will Star—as they further enhance and improve their technological and service offerings to continue the company's track record of being a notable leader in the sector.
"Star wants to remain at the forefront in providing our customers with the best products and services," explains Ray Cruz, Star's Executive Vice President. "It's important for us to continue evolving as a company, while still maintaining our ongoing mission to always exceed customer expectations with a team of creative and experienced professionals."
Coinciding with Star's brand update comes the much-anticipated relaunch of Star's own website, now with a refreshed new aesthetic that takes full advantage of the new Star brand. From the moment visitors land on the new starincorporated.com, they will find a more concise overview of the company's strengths, services, and capabilities. Star believes that their work speaks for itself, so the site features an easier-to-navigate structure that highlights exactly what Star does best: trade show exhibits, events, and environments.
As the company marches onward into the new decade, they are excited to continue to be able to produce high quality work for their clients representing various business sectors, and to look forward to gaining new partners looking to up their game at their next trade show, convention, event, or conference.
To post a comment Log In or Become a Member, doing so is simple and free