Get Nearly $100 Off SOL 3D Scanner on Cyber Monday
Tuesday, November 26, 2019
Press release from the issuing company
Save 15% for One Day Only
Chantilly, Va. – Scan Dimension®, developer of 3D scanning, imaging, and realization technology, today announces that on Cyber Monday (December 2), online shoppers will have the chance to pick up the SOL 3D scanner for $509 — 15% off the regular price of $599. The SOL scanner from Scan Dimension® is the easiest and most practical desktop 3D scanner on the market and provides a cost-effective way to explore the popular world of 3D.
The one-day discount makes it even easier for makers, hobbyists, educators, and entrepreneurs to get started with 3D scanning, whether reproducing existing objects, creating 3D models to share and modify, or producing crafts or prototypes to sell or demonstrate.
SOL customers also get free access to 6 GB of space for free on p3d.in, an online service specifically designed for storing and sharing 3D models.
The SOL scanner has been embraced by numerous professional 3D experts, who've called it "easy, inexpensive, precise" and "the best experience with 3D scanning that I have yet had." Customers have called it "just brilliant," with "software so simple a 10-year-old mastered it in a few minutes."
The one-day-only Cyber Monday discount is only available when ordering direct from the Scan Dimension online store. Standard 4-day shipping will be free, and priority shipping will be available for a fee.
Visit www.ScanDimension.com to purchase a SOL 3D scanner.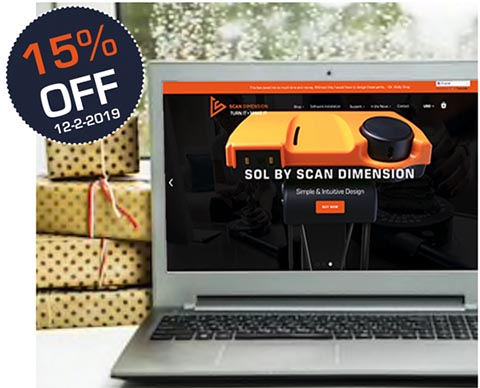 To post a comment Log In or Become a Member, doing so is simple and free