Latest new standards earned by SoOPAK ensures strict food and product safety

To better serve its pharmaceutical and food packaging clients, SoOPAK, a leading North American short-run offset packaging specialist, has bolstered its internal systems by earning the coveted International Featured Standard (IFS) certification and Hazard Analysis Critical Control Point (HACCP) certification. These certifications mean that SoOPAK has successfully passed a rigorous food safety auditing process and certifies that its manufacturing facility is compliant with HACCP food safety regulations.

"As our client base continues to expand and grow, we're catering to an increasing number of pharmaceutical and food packaging customers," says YaJun (Carol) Jiang, president of SoOPAK. "Earning the IFS certificate is a logical result of our strongly expanding activities in this marketplace. To provide first class service to these clients that require strict adherence to quality and safety, we are continually seeking ways to assure our valued customers that we operate at the highest quality standards and produce innovative, high quality, short-run customer-focused packaging products and services all under our own roof. Our completion of these two new certifications underscores our commitment to meeting and exceeding the expectations of our customers and becoming their trusted partners."

International Featured Standard (IFS) Food certification is a GFSI recognized standard for certifying the safety and quality of food products and production processes. IFS-certified companies produce a product or provide a service that complies with customer specifications, while continually working on process improvements. The standard is supported by retailers, food service companies and food manufacturers, who are all part of the IFS technical committees, and specifies the criteria that shall be fulfilled at a given level. An IFS certification demonstrates that SoOPAK has established systems suitable for ensuring food and/or product safety, and that it has considered and implemented customer specifications.

HACCP certification recognizes that a food business has developed, documented and implemented systems and procedures in accordance with HACCP. It is granted by an external certification authority that has the necessary knowledge and skills to undertake an assessment of the HACCP system or HACCP plan. By earning this designation, SoOPAK instantly demonstrates to its customers its commitment to producing or trading in safe food. To gain certification by a reputable certification provider, SoOPAK was required to undergo an audit or assessment of its food safety and HACCP policies and procedures.

These two new certifications join SoOPAK's existing ISO 9001:2015 certification, an advanced upgraded standard highlighting the firm's long standing commitment to high quality and customer satisfaction. This internationally recognized certification is designed to be a powerful business improvement tool and proclaims SoOPAK's dedication to the highest levels of quality management and customer satisfaction. SoOPAK's customers can rest assured that this updated ISO 9001:2015 displays SoOPAK's commitment to excellence and professionalism and as having a well-disciplined corporate structure with effective processes in place. SoOPAK received its certification from QAS International, an established certification company, which rigorously audited SoOPAK's procedures and certified that SoOPAK is consistently providing products and services that meet customer and regulatory requirements and that the high principles of the ISO standard are being upheld. SoOPAK has been proudly ISO certified since 2016.

SoOPAK is a leading manufacturer of short-run package production starting at 500 pieces. The firm offers custom food packaging, incorporating unique shapes, sizes and styles to meet a food vendor's needs. Equipped with the most high-tech printing and post-press equipment and an experienced team, its products are of the highest quality, and are developed and delivered within 15 business days (or five to 10 on rush orders). Its high level of integration in product capabilities includes in-house prepress services, plate making, UV coating, embossing, and windowing capabilities. SoOPAK's production process is extremely efficient and highly customizable making it the preferred choice for businesses across North America. SoOPAK offers its services to small business owners and large-scale corporations with some of the most competitive prices in the industry.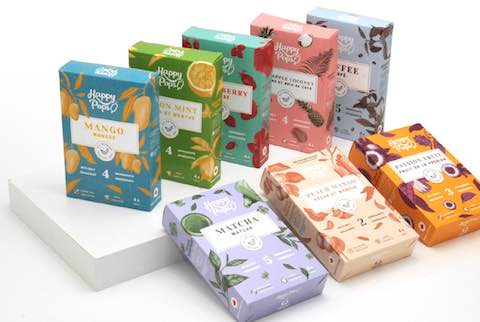 Colorful packaging produced by SoOPAK entices consumers to purchase these popular frozen popsicles.