Milford, Ohio – TLMI announces that Neenah, WI-based Outlook Group was awarded a TLMI Calvin Frost Environmental Leadership Award at the association's recent Annual Meeting in Carlsbad, CA. Last year it was announced that the awards have been officially renamed the Calvin Frost Environmental Leadership Awards, an eponymous tribute to one of the packaging industry's most respected environmental and sustainability thought leaders and longtime TLMI member.
The award recognizes TLMI members that have consistently demonstrated a commitment to progressive environmental practices across a range of areas including solid waste reduction, recycling, waste or energy recovery, the implementation of new 'clean' technology and/or processes and the implementation of an educational program.
TLMI also announces that Arlington, TX-based Diversified Labeling Solutions was given a special award at the Annual Meeting for the company's excellence in recycling and landfill avoidance.
This year's Calvin Frost Environmental Leadership Award was given to Outlook Group, a company that has achieved nearly 100% landfill avoidance and is committed to using suppliers that offer more sustainable products and solutions. A prominent standout in Outlook's submission was the company's microliner product, an option that the company offers to help their customers with their own sustainability goals. The product enables Outlook's customers to decrease release liner waste by 80% and increases label volumes on rolls by 30-100% resulting in warehouse space reduction and lower transportation costs. Additionally, recycling and disposal costs are reduced due to lower total material construction volumes.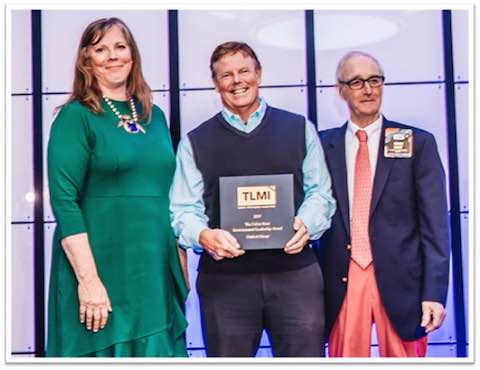 Rosalyn Bandy, Kevin Hayes, President, Outlook Group, and Calvin Frost.
Diversified Labeling Solutions received special recognition for excellence in recycling and landfill avoidance due to the company's internal program requiring all production personnel to change how they process waste within the plant. Previously, the company's waste was channeled to a large compactor. In the new program, all waste is separated and all matrix waste is compacted and rechanneled toward energy generation, replacing coal. The company's recyclable materials such as paper, plastics, metal, packaging film, pallets and corrugated are collected, separated and recycled in different recycling streams. The company's efforts have removed two million pounds of waste per year from landfills.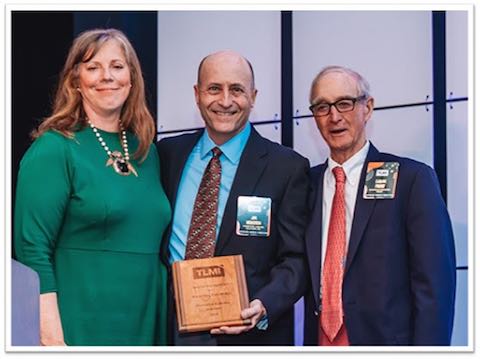 Rosalyn Bandy, Jim Kersten, CEO, Diversified Labeling Solutions, and Calvin Frost.
TLMI Vice President of Sustainability, Rosalyn Bandy, comments, "This is TLMI's 17th year presenting the Environmental Leadership Awards and I want to congratulate Outlook Group and Diversified Labeling Solutions for their high level of excellence in environmental stewardship. As sustainability becomes an increasingly pressing issue in our industry, we have more interest than ever before from companies submitting their achievements for recognition. Our award recipients this year have put forth inspiring efforts and these honors are certainly well deserved. I want to also personally thank everyone on our judging panel.
The panel included two internal judges from TLMI member companies, one judge representing one of our media partners and three external judges including a sustainable packaging expert from Colgate Palmolive, the Director of the Sustainable Packaging Coalition's How2Recycle Program and an Environmental Health and Safety Expert from the Specialty Graphics Imaging Association. We were extremely fortunate to have such a fantastic panel of judges this year and I look forward to working with this team moving forward as TLMI continues to lead the way as an association that takes sustainability and providing resources for our membership very seriously."