Gerhardshofen – WEILBURGER Graphics GmbH, a world-renowned manufacturer of varnished, adhesives and flexo inks for the graphic industry, was once again an exhibitor at this year's PACK PRINT INTERNATIONAL 2019 in Bangkok. The company exhibited together with KWS GRAPHIC, a long-standing local sales partner and established supplier to the Thai printing industry, from September 18th – 21st at the seventh exhibition for the printing industry in Thailand. Almost 30,000 trade visitors found their way to the Bangkok International Trade & Exhibition Centre (BITEC) this year and found out more about the latest trends in the printing industry.
Arno Dürr, Sales Director at WEILBURGER Graphics GmbH, who was on site together with Udo Hartmann, Technical Sales at WEILBURGER Graphics about the fair impressions: "This year, we are exhibiting for the third time together with KWS GRAPHIC at the PACK PRINT in Bangkok. Every time we are enthused again, how strong the interest in our products and also the technical knowledge of trade visitors is. Especially our new and probably world's most modern production plant for water-based coatings received a great attention at the exhibition visitors this year. We would like to take this opportunity to thank Wirat Kongsiriphisan and his team at KWS GRAPHIC for the successful exhibition as well as excellent cooperation and we are already looking forward to the fair in 2021."
Wirat Kongsiriphisan, owner of KWS GRAPHIC added: "With WEILBURGER Graphics we have found an ideal partner for the distribution in the graphics industry. The product quality is excellent, the service is unique and since 2013 friendships have already developed from this close cooperation in the past six years. Not least due to the new and, in our view, pioneering production plant for water-based coatings, the company has now demonstrably achieved a leading position on the world market and we are very proud to be allowed to distribute the huge product range of WEILBURGER Graphics GmbH exclusively for the Thai market."
Further information: www.weilburger.com as well as www.kwsgraphic.com.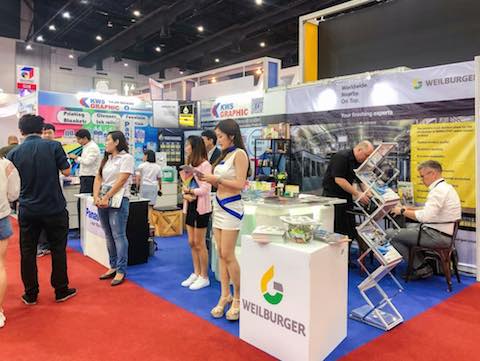 Joint booth of KWS GRAPHIC and WEILBURGER Graphics GmbH at the PACK PRINT INTERNATIONAL 2019.