Xeikon dry toner technology proves an effective choice for multiple applications
Lier, Belgium – Guru Labels in Australia has installed a second Xeikon 3300 digital label press with inline finishing to further expand its capabilities and drive new business plans. Based in Lisarow, a developing suburb of the Central Coastal region of New South Wales located 90 km from Sydney, the company provides labels of all different types, shapes and sizes to multiple sectors across the whole of Australia. Established in 2001, the family owned business is now regarded as a Xeikon house and one of the most dynamic digital label printers in Australia. Guru Labels has recently purchased and refurbished a 36,000 sq. ft print factory, gaining four times more space and the opportunity to design a purpose-built manufacturing plant with a full IT team on site.
Nick Lowe, Owner and Sales Director, says, "At Guru Labels, we have an opportunistic mindset and are constantly evolving. We continue to invest in the most advanced systems and in the latest print technology to continually meet our customers' ever-growing needs and expectations. Our relationship with Xeikon is now fundamental to our business. We have invested in a second Xeikon 3300 digital label press with dry toner technology, as it is without doubt the best machine out there to help us differentiate ourselves. We have huge plans to push forward and move into new markets. The creative capability of the Xeikon equipment and technology enables us to explore and find exciting and unique opportunities."
Six years after their first installation, Guru Labels has invested again in dry toner technology. Not only because of the successful performance of the Xeikon 3300, but also because they see the creative potential this machine can give them going forward, with its ability for multiple applications and a diversity of solutions. "We also stuck to this technology because it works perfectly and gives us the technical results we need," explains Lowe. "With both 3300s printing CMYK with white at 1200dpi and speeds of 19.2mpm, we can have the confidence to grow our business even further. For Guru, the advantages of Xeikon's dry toner technology are compliance with food safety legislation, security hidden in the graphics, and exceptional colour and finish – so sharp and accurate every time".
Guru started by outsourcing to a range of print partners, but since bringing every process and procedure in-house, the company has been able to create a business model that is forward thinking and customer centric. Now they are all about manufacturing and delivering the best products and service. Guru has set up what they call the 'Portal' side of their business, as they see this as fundamental to their offering. They set up an IT department dedicated to building multiple and individual web portals that each customer can access to take control of their job. Customers can track their jobs, from ordering through production to dispatch. For a large business with a daily schedule of multiple small jobs, it is beneficial to be able to simply and easily log in and enter data into Guru's system at any time and from any device. Guru has a mission to help customers 'find the fastest possible pathway with the minimum of red tape'. Handling hundreds of jobs online, Guru deals with many small, medium and large businesses and is now known for 'spreading the love of labels' across the whole of Australia.
Guru Labels supplies a lot of their labels to the trade – other key markets across the board are industrial, commercial, craft and artisan, retail and mechanical manufacturing. The company has built up strong relationships with many of its customers. Lowe explains, "We regard trust as a key element of the customer/supplier relationship. The Xeikon machines give us the ability to pass on perfect products to our customers, and this in turn contributes to their success with their own customers. Trust impacts us all and gives us all stability. We read in the national trade press how Australian printers trust Guru Labels and Xeikon has contributed to that. I have to mention the great staff we have at Guru. We call them 'the dream team'. They are a special and dedicated team of professionals and we feel most fortunate to have the loyalty of such a great bunch of people."
Trevor Crowley, Sales General Manager for Packaging in Australia and New Zealand emphasises that partnerships are important: "For Xeikon it's about building strong, long term relationships with our customers. We know that the best results are achieved when the supplier supports the customer and the customer supports the supplier. This is what we have at Guru Labels. Nick and his team are great supporters of the Xeikon brand and we have worked and will continue to work together with Guru Labels as well as all of our existing and potential customers to ensure that their digital transformation and ongoing journey is a positive one."
Lowe concludes, "We are proud to be known as a Xeikon house. When we were deciding on which supplier to go with, they came out ahead because they had something unique – they had a vision. It is very easy to go with the crowd but we wanted to define ourselves. Printing with Xeikon's exceptional technology and equipment gives us an edge. They are sensational people to work with. We see them as a bulldog – they continue to turn up and do all the little things right – it's all in the detail. The Xeikon brand gets recognized on our website. We are now the company that customers go to, and you have to have the right machinery to achieve that. Our customers absolutely love the labels that come off the Xeikon machines. Xeikon is our perfect partner and hits the mark for Guru Labels every time."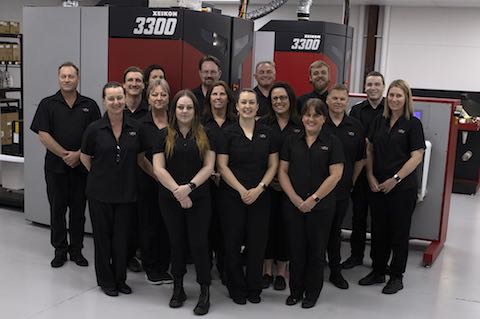 Guru Labels team with second Xeikon 3300 digital label press.