Gurnee, Ill. – With the Fall trade show and event season upon us, let's take a look back as Domino has created a brand new video which highlights all of the activity, 'voice of the customer', presentations, demonstrations, meals, magic, and comradery that took place at Digital Printing Spectrum 2019.
In the Hugh Jackman movie "The Greatest Show" the audience is presented with amazing entertainment, one spectacular after another. That is what Domino set out to do at Digital Printing Spectrum 2019. In what was promoted as a 'full-throttle, non-stop schedule of events', there were LIVE presentations and Q&A panel discussions from over 25 well-known, highly-respected professionals in the label industry, 40+ table-top exhibits from leading industry suppliers, and equipment demonstrations of the Domino N610i digital UV inkjet label press and K600i digital UV inkjet printer. The atmosphere was one where the 250+ attendees could 'see more, learn more, and do more' while networking with industry colleagues.
In this fast-paced 3-minute video, Domino highlights all of the incredible activity that spanned over 2 days at Digital Printing Spectrum. You'll see David Ellen (Domino), Dan Muenzer (TLMI), Kristin Yerecic Scott & Brian Hurst (Yerecic Label), Dan Spah (Process Label), Kevin Hayes (Outlook Group), Patrick LaMourie (Domino), Scott Fisher (Smyth Companies), Kathleen Scully & Steve Katz (L&NW), Simon Gross (CEI), Dave Bradish (Orion Labels), Mark Turk (International Label & Printing), Mark Wegmann (Wegmann Companies), Matt Condon (Domino), Adam Gray (SheetLabels.com), Kelly Cart & Phil Stromsoe (Discount Labels), Chelsea McDougall (Labels & Labeling), Tasha Ventimiglia (Labelexpo), Tom Erickson (The Label Printers), Gary Peterson (Domino), Nick Van Alstine (Macaran), Brian Ludwick & Cory Francer (Packaging Impressions), Eric Hoendervangers (MPS), Dave McConnon (Meyers), Tom Staib (DWS Printing), and many more!
"Our objective for the video was to take what was a wonderful two-day event, and highlight in three minutes the energy and enthusiasm that took place at Digital Printing Spectrum 2019. And by doing so, it really serves two purposes. One, for the people who were not able to be there, we wanted to provide them with a snapshot of what they missed. And equally, for the people who were able to attend, we wanted to give them a reminder of the fun we had together and to say thank you for making it such a great event. It was truly a celebration with our customers, our prospects, our OEMs, our vendor partners, and our employees," says Bill Myers, Marketing Manager of Domino Digital Printing North America.
Here is a link to the video: VIDEO: Digital Printing Spectrum 2019.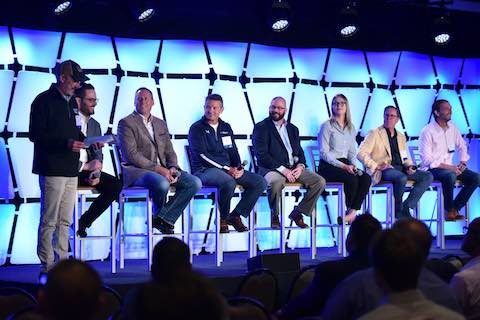 Left to right: Dan Muenzer, Adam Gray, Scott Fisher, Dave Bradish, Brian Hurst, Kristin Yerecic Scott, Nick Van Alstine, Tom Staib.