Trekk Wins Communicator Award of Excellence in Branded Entertainment for International Paper Accent TV
Tuesday, August 13, 2019
In recognition of its augmented reality Accent TV campaign for International Paper, Rockford-based creative agency Trekk has won a Communicator Award of Excellence. This is the Accent TV's fifth major award in 2019.
About the Accent TV
To help launch the new look and feel that Trekk designed for International Paper's Accent Opaque paper line, the agency created an augmented reality traffic driver for the Accent Opaque booth at Adobe MAX 2018. Adobe MAX is known as the Creativity Conference, so the goal of the campaign was to craft an interactive experience that would speak directly to the design community while giving them a chance to touch and feel Accent Opaque for themselves.
Retro-themed paper-craft television sets made with Accent Opaque paper bring the Accent brand story to life via multiple AR "channels," each in a different vintage throwback style. Scan each channel card with International Paper's app to bring up the next video, continuing the story. The videos demonstrate the evolution from the iconic logo that midcentury designer Lester Beall created for International Paper in the 1960s to Accent's modern brand.
Adobe MAX attendees constructed their own Accent TVs and were then encouraged to "put their Accent on" them by designing their own channels and sharing their creations on social media. The TVs were designed with the ability to send additional AR content and communication to attendees post-event, maintaining an ongoing conversation around the Accent brand.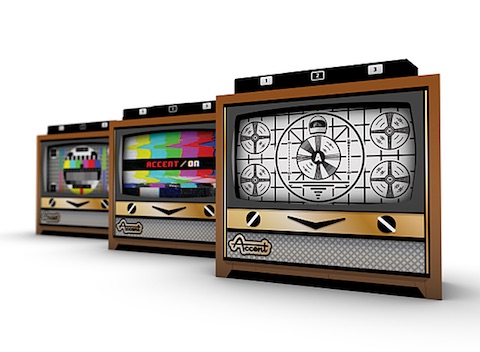 About the Communicator Awards
The Communicator Awards honor projects that go beyond craft and innovation — they want to honor work that makes a long-lasting impact and moves people. These awards are judged and sanctioned by the Academy of Interactive and Visual Arts (AIVA), a top-tier group of media, communications, advertising, creative and marketing firm professionals. Choosing winners from over 6,000 entries each year for the last 25 years, the Award of Excellence is given only to those companies whose communication abilities deem them the best in their field.
About International Paper and Accent Opaque
International Paper is one of the world's leading producers of fiber-based packaging, pulp, and paper. Accent Opaque is its premium paper line, beloved by designers, printers, and paper merchants for its ability to keep colors true with enhanced whiteness and brightness.