Neenah CLASSIC® Papers are Perfect for Everything Under the Sun
Friday, August 09, 2019
Press release from the issuing company
Alpharetta, Ga. – Neenah has just released Everything Under the Sun, the newest promotion showcasing its Neenah CLASSIC® Papers portfolio — the most comprehensive, best-selling collection of fine printing papers on the market.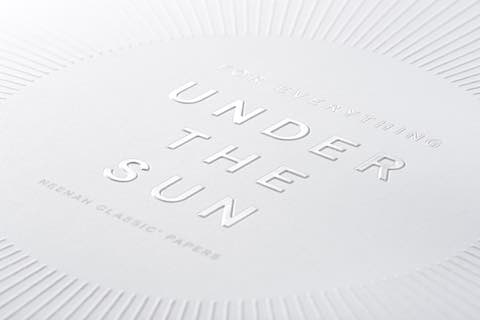 "CLASSIC® Papers are the standard of excellence, the go-to portfolio for creatives looking to elevate any design project. The timeless shades and colors and the unique textures in this collection provide a starting point for design thinking, a pathway to take any project from idea to highly creative finish. This book is designed for designers. It's printed primarily with four color processing to show how paper selection can be the key to taking your ideas to the next level, in any space from retail and real estate to hospitality and beyond. CLASSIC® Papers are quite simply, perfect for every project under the sun," said Ellen Bliske, Senior Brand Manager.
From the embossed cover produced on CLASSIC CREST®, Solar White, high-fidelity printing, to images that incorporate the textures of CLASSIC® Techweave or CLASSIC® Woodgrain into the design, Everything Under the Sun houses a combination of creative design, print techniques, and a variety of paper shades, colors and textures to create inspiration, enhance visions, and help take ideas where they might lead.
Neenah CLASSIC® Papers have every color, every texture and every weight, for any concept, any image and anything else that's possible. Everything Under the Sun shows how ideas can transform with design, printing and paper selection.
To post a comment Log In or Become a Member, doing so is simple and free