GAERF/APTech Support Top Graphic Communications Career and Technical Education Students at Skills USA Competition
Friday, July 19, 2019
Press release from the issuing company
Reston, Va. – The Graphic Arts Education and Research Foundation (GAERF), managed by the Association for PRINT Technologies (APTech), recently recognized talented Graphic Communications contestants from across the country who participated in the SkillsUSA 55th Annual National Leadership and Skills Conference (NLSC) Championships, held June 24-28, 2019 in Louisville, Ky. During the week-long event, the largest skills competition in the world, more than 6,500 (an increase of more than 200 participants from 2018) outstanding career and technical education high school and college-level students, all state contest winners, competed hands-on in 102 different trade, technical and leadership fields.
All contests are run with the help of industry, trade associations, and labor organizations, and the test competencies are set by industry. Graphic Communications contestants worked against the clock, and each other, in several competency areas including: Digital Press, Digital Workflow, Finishing, Offset Press Simulator Operations, Oral Professional Assessment, and Production Planning.
Top student winners received gold, silver and bronze medallions along with prizes, specific to their trade, awarded by competition sponsors. Additionally, GAERF/APTech provided a $250 scholarship to each of the 24 Graphic Communications contestants.
"Supporting effective initiatives such as the SkillsUSA competition, which recognizes superior training and talent, is essential to the growth and future of the Graphic Communications Industry", said Thayer Long, President GAERF/APTech. "We are impressed by the dedication to excellence of students represented among this year's competitors and winners."
Medalists for the 2019 Graphic Communications Competition (High School level):
Gold Jordan Martin, S & W Washtenaw Consortium, Saline, MI
Silver Nicholas Forsyth, Franklin County CTC, Chambersburg, PA
Bronze Donald Duca, Norwich Technical High School, Norwich, CT
Medalists for the 2019 Graphic Communications Competition (College level):
Gold Jade Milloy-Cobb, Illinois Central College, East Peoria, IL
Silver Hunter Steed, Augusta Technical College, Augusta, GA
Bronze Gage Shupard, Thaddeus Stevens College of Tech, Lancaster, PA
The Graphic Communications Competition was produced with the help of dedicated volunteers, and sponsored by: dk Wheeler, GAERF/APTech, LSC Communications, Quad, Printing Industries of America, Roland DGA, and Sinapse Print Simulators.
For more information about GAERF and its support of the SkillsUSA Championships, contact GAERF Director Margie Garr at email: mgarr@aptech.org, or phone: 703/264-7200.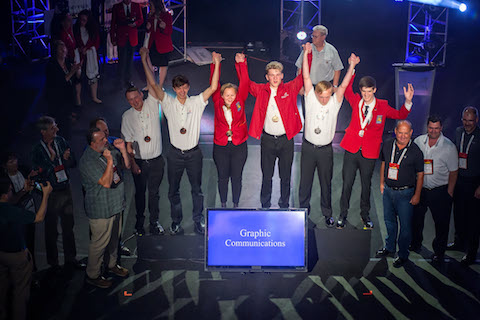 To post a comment Log In or Become a Member, doing so is simple and free