In follow up to Diary of a Wimpy Kid, Jeff Kinney's new book hits bookshelves this week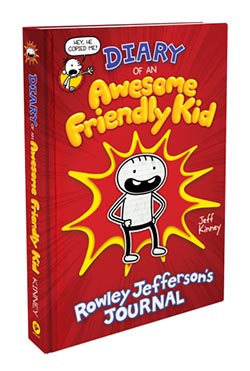 Stevens Point, Wis. – Worzalla, an employee-owned printing company, is proud to recognize its employees for rising to the challenge of printing the first edition of the highly anticipated Diary of an Awesome Friendly Kid: Rowley Jefferson's Journal book by famed children's book author, Jeff Kinney.
Worzalla had just weeks to order paper, coordinate deliveries, schedule workers, set up printing machines, print and bind 2.5 million books! They began shipping out the first 650,000 hard cover books within three weeks after getting the copy but printing the 224-page book that everyone is talking about came with immense challenges. Just look at the numbers:
Worzalla By the Numbers: Diary of an Awesome Friendly Kid: Rowley Jefferson's Journal
2.5 million books printed
1,500,000 hard copies
1,000,000 paperbacks
1,934,100 pounds of paper
41,654,551 linear feet of paper
456,314 pounds of ink
7,166 manhours
"Worzalla is so proud of all the men and woman who worked long hours and gave up their weekends to finish this huge project," said Jim Fetherston, CEO and President of Worzalla. "This was Worzalla's fastest turn around for such a large volume with critical deadlines and we are thrilled that our team exceeded expectations."
After planning began, the order tripled in size with the same tight time constraints, creating an intense logistical challenge for Worzalla's team. They worked closely with Lindenmeyr Book Publishing Papers and Pixelle Specialty Solutions to bring in nearly 2-million pounds of paper, which required scheduling of 49-truck deliveries from Ohio and Pennsylvania paper plants.
In total, Worzalla printed 41 million linear feet of Diary of an Awesome Friendly Kid: Rowley Jefferson's Journal, which when laid out end to end is 7,889 miles, roughly the distance from Stevens Point to Manila, Philippines.
While these numbers are impressive, Worzalla also sets the industry standard when it comes to sustainability. Worzalla is certified by the Forest Stewardship Council and the Sustainable Forestry Initiative, guaranteeing that paper used in their printing projects is responsibly sourced. Additionally, Worzalla is G7 Master Printer Qualified, which helps to reduce paper and ink waste by making sure the product is set up properly before starting the full-scale production.
Worzalla previously printed Jeff Kinney's books from the author's highly successful series, Diary of a Wimpy Kid. That series made Kinney a #1 New York Times best-selling author and six-time Nickelodeon Kids' Choice Award Winner.
"We loved working with Jeff Kinney on his Diary of a Wimpy Kid series, so we were thrilled when Amulet Books asked us to publish his new book," said Richard Letchinger, Vice President of Sales and Marketing.
Worzalla was recently awarded the Best Workplace in the Americas (BWA) designation and Safety Shield, to recognize exemplary human resources practices that create an outstanding workplace. This is the third consecutive year Worzalla has earned the BWA designation and the first for the addition of the Safety Shield.
For more information, visit www.worzalla.com.