InfoTrends Completes Comprehensive Review of the Global Marketing Print Management Market
Friday, April 01, 2016
Press release from the issuing company
Weymouth, MA - InfoTrends has just published a comprehensive report entitled Exploring the State of the Global Marketing Print Management Market, which provides insight into this space through interviews with nearly 40 executives worldwide. Also known as the print brokering or strategic print sourcing, the marketing print management market is in an unprecedented state of transition. "Print's place in modern marketing campaigns is transforming, competing with other channels for marketing dollars," stated InfoTrends Senior Director, Matt Swain. "The insights that we gathered from this research are invaluable and tell a story of a rapidly developing global market."

The following graphic provides a view of who InfoTrends sees as key players in this market globally.
Leading Providers (by Region)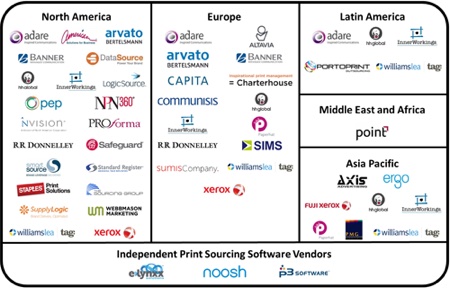 Print brokers and distributors are striving to remain relevant by offering expanded services, while creative agencies, printers, and software providers consider opportunities to disrupt (or share in) print management firms' unique intermediary position between enterprise clients and print vendors.

"We expect to see more holistic discussions on the topic of executing marketing supply chain management in the future," noted Will Morgan, Research Analyst at InfoTrends. "Enterprise clients are also seeking to expand globally and they will increasingly expect their partners to provide global sourcing solutions." Firms can make strides toward achieving a global reach through aggressive organic growth, strategic acquisitions, or partnerships with like-minded print management firms in other parts of the world.

For more information, please visit our online store or contact Scott Phinney at 781 616 2123 or scott.phinney@infotrends.com.
To post a comment Log In or Become a Member, doing so is simple and free