Darren Penny announced as new Head of Sales at Roland DG
Friday, September 04, 2015
Press release from the issuing company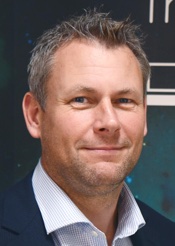 Bringing with him 25 years of industry experience and sales expertise, Roland DG is delighted to announce that Darren Penny has been appointed the new Head of Sales for Roland DG UK, following on from Brett Newman's well deserved promotion to Managing Director.
Previously holding a variety of management roles at Paperlinx, Darren's career change towards the machinery side of the industry was an easy choice. Says Darren Penny, "I look forward to immersing myself in the creative and innovative environment that Roland DG affords its staff, and relish the chance to establish myself with a market leader that is not only successful but devoted to the print industry."
Previously established at Paperlinx as General Manager for the South West, Darren has a great deal of unique and exciting experience and knowledge spanning his career so far, making him an ideal fit and great addition to the Roland DG family.
Says Brett Newman, "Darren's wealth of experience and unparalleled perspective on the print industry – as well as his keen attitude – makes him a fantastic addition to our team, and will play a key role in contributing to Roland DG's bright future."
As Head of Sales, Darren will be responsible not only for Roland DG's brim-full product portfolio alongside the sales team, but also for the highly successful RolandCare, the famous Creative Centre and the renowned Roland DG Academy, enabling him to dip his toe into the more creative side of the business.
Continues Darren: "Getting to be involved with the innovative and inspired things Roland DG engages in is a real bonus for me, and allows me to not only have a better understanding of our fantastic Dealer network through our sales and Academy team but also the end user themselves, and how they perceive Roland DG.
I've come into the company at a particularly exciting time, with a sensational release line-up for this period and beyond to keep up with the incredible demand and tremendous growth Roland DG have been experiencing in the last couple of years."
Concludes Mr Newman: "As you can imagine, we're more than happy to extend a warm welcome to Darren and look forward to seeing everything he will bring to our company."
To post a comment Log In or Become a Member, doing so is simple and free