River and Polestar break Guinness World Record for world's biggest magazine
Tuesday, August 04, 2015
Press release from the issuing company
Award-winning content marketing agency, The River Group, in conjunction with Polestar, has smashed the Guinness World Record for producing the largest single edition of a magazine – the mascot of River's #weloveprint campaign.

Measuring 3.055m in height and 2.35m in width, the bigger-than-person-sized issue of Healthy magazine – for River's long-standing client, Holland & Barrett – took 14 hours to print and weighed an eye-watering 17 stones after being fully bound.

For the River team, the magazine was the culmination of intricate research and development with its co-company, Polestar – Europe's largest independent printers.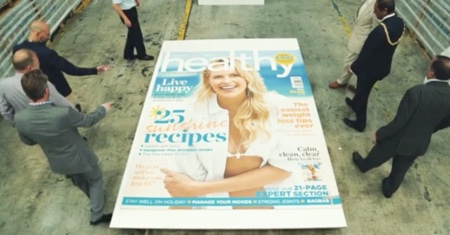 'The idea for producing the world's biggest person-size magazine really came about because at River we like to innovate and everybody these days is saying it's all about digital and social media and not about print. While we have a thriving digital, social media and, indeed, video business, for us print is still at the heart of a lot of what we do for our clients,' says Nicola Murphy, CEO of The River Group. 'We knew that Polestar would find a way to do it.' It took six months to establish whether the magazine could be made.

'It's something we haven't done before, tried before or even thought of before, so just trying to find out the logistics of it was quite nerve-wracking,' says Martin Black, Senior Production Manager of The River Group, who oversaw the printing process along with Ian Allan, Head of New Media at Polestar.

The amount of ink alone needed to print the magazine ran to 9.3 litres and, when laid out, the surface area of the magazine was 7.179 square metres – beating the previous Guinness World Record of 6.96 square metres.

The magazine – a replica of the August issue of healthy – was produced by a team headed up by the brand's editorial director, Ellie Hughes, at River's London headquarters. So why was healthy magazine chosen to be super-sized?
'The reason for choosing healthy above any of our other titles – much as we love all our magazines and all of our clients – is because we've worked with Holland & Barrett for 21 years now. They are our longest-standing and most loyal client, and healthy is actually a hugely successful magazine within the UK and international market,' explains Nicola.

One of the key factors for The River Group in producing the magazine was to ensure that it could be responsibly disposed of. 'Ultimately, it's recyclable, as one would hope it would be!' says Nicola.

David Heslop OBE, a former Lord Mayor of Sheffield, was one of the people who verified the 156-page magazine as a Guinness World Record breaker when it came off the press. For the combined River and Polestar teams, it was a moment to celebrate – and breathe a huge sigh of relief that they'd pulled off such an amazing stunt.
'It feels great to be world record breakers,' says Martin. 'Not many people can lay claim to that, and it's a great achievement for all of us.'

River is a top 10 content marketing agency based in London, UK. We create omni-channel content for brands that is customer centric, contextually relevant and commercially profitable. To help us grow your brand through brilliant content, contact us today at www.therivergroup.co.uk or call 020 7420 7000. For the latest on the biggest magazine in the world, check out #weloveprint @rivergroupltd

The Polestar Group is Europe's leading independent printing company, with the enviable position of market leader in the magazine, newspaper supplement and commercial printing markets and is also a major supplier to the retail, travel, corporate and financial markets.

The Group has the most dynamic, agile and versatile kit profile in Europe and possesses the unique offering of gravure, heatset web offset, sheet-fed, cutstar and digital printing coupled with the largest armoury of finishing and mailing facilities, enabling award winning, best in class quality production to the tightest possible schedules.
To post a comment Log In or Become a Member, doing so is simple and free