Georgia Power's RYOBI MHI 764XL
Friday, June 12, 2015
Press release from the issuing company
Georgia Power is the largest of the four electric utilities owned and operated by Southern Company. All of Southern Company's printing is done at the Georgia Power Prepress & Printing Services department in Atlanta, GA.
This team prints bill inserts, newsletters, brochures, business cards, stationary, and anything Southern Company needs with 24 hour turnaround times. Georgia Power recently purchased a RYOBI MHI 764XL Offset Press from PHS.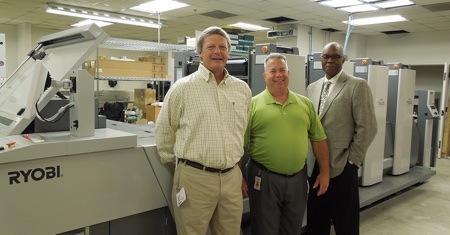 We met up with Bobby Jenkins (Center) and Willie Green (Right) to ask a few questions about Georgia Power's newly installed RYOBI MHI 764XL.
Also pictured, Paul Hynes (Left) of PHS.

Q: What was the criteria you were searching to fulfill?

A: Quality and speed were the determining factors. We also needed to reduce time from prepress to press to first sellable sheet, and wanted to make a long term investment able to take us deep into the future.

Q: Why did you decide to buy the RYOBI MHI 764XL?

A: It is a myth that the printing industry is on the way out. Our volume is up over the past five years, so we began our search to upgrade our old offset press and asked, "Do we want to go offset or digital?" We found the quality, speed, and efficiency of offset outweighs the capabilities of digital.

In the past, we sent jobs to our prepress department on CDs, but with RYOBI MHI's job automation platform we can send jobs via the Internet and reduce our prepress to press time. The 764XL was a great fit because we could customize the machine to our exact specifications and it was able to adapt to our limited amount of floor space.
Q: What are your future plans with the machine?

A: We are excited to discover the full capabilities of the RYOBI MHI 764XL. We often receive a job then figure out how to do it later. We know we will receive high quality prints from the 764XL and PHS will guide us along the way because they treat our problems as if they are theirs.
To post a comment Log In or Become a Member, doing so is simple and free