Kelmscott/Goudy hand press unveiled during Cary Graphic Arts 45th anniversary
Wednesday, October 01, 2014
Print a keepsake on the historic 1891 Albion press during RIT's celebration, Oct. 9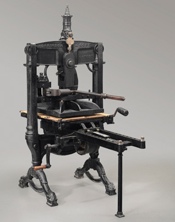 The Kelmscott/Goudy iron hand press, the Albion No. 6551, will be unveiled to the public this fall during the 45th anniversary celebration of the Cary Graphic Arts Collection at Rochester Institute of Technology.
The library's most recent major acquisition, the 19th century Albion Press has undergone months of restoration and will be "back in service" during the opening reception from 5 to 8 p.m. on Thursday, Oct. 9. Visitors are invited to print their own keepsake on the historic press that was once used by Arts & Crafts luminary William Morris; 20th century type designer Frederic Goudy; and the Cary Collection's namesake, Melbert B. Cary Jr., who owned the antique press from 1932 to 1941.
The milestone event coincides with the library's exhibition, "45: Selections from the RIT Cary Graphic Arts Collection," which runs from Oct. 6 to Dec. 12. Many pieces on view in the exhibit are notable objets d'art—from a Hermann Zapf calligraphic sculpture that pays homage to F.W. Goudy, to the Kelmscott Chaucer, considered one of the most beautiful books ever made and printed on the Kelmscott/Goudy press, Eric Gill's carved alphabet stone from 1938, and an issue of Isaiah Thomas's revolutionary newspaper The Massachusetts Spy.
"The Cary Collection has grown extensively the past four decades; we started with a collection of 2,300 volumes and now it's up to 45,000 volumes and related archives," said Cary Curator Steven Galbraith. "It went from being the personal library of Melbert B. Cary Jr. to being one of the nation's premier libraries on graphic communication history and the history of the book.
"But our most recent star, of course, is the Kelmscott-Goudy press, which caps off how far this library has come."
According to Professor Jethro K. Lieberman of New York Law School, who previously owned the press with his wife, Jo Shifrin, the Albion press was purchased in 1960 by his parents, J. Ben and Elizabeth Lieberman—owners of Herity Press. They topped the press with a Liberty Bell, a reminder of the vital role that private presses play in the freedom of the press.
"My father always hoped that the Kelmscott/Goudy would continue to be used and not just be showcased," said Lieberman. "I'm delighted that RIT is fulfilling his wish: to continue the Kelmscott/Goudy tradition not as a museum piece but as a working press."
Manufactured by Hopkinson & Cope in 1891, the Cary Collection bid $233,000 for the press at Christie's auction house last December. The Kelmscott/Goudy press joins 15 historical presses and more than 1,500 fonts of metal and wood type located in the Arthur M Lowenthal Memorial Pressroom. During the past nine months, the press has been painstakingly restored by the Cary Collection's Associate Curator Amelia Hugill-Fontanel, who used archival books, blueprints and advice from printing experts to get the press assembled and in working order.
The 3,000-pound press only has a few dozen working parts, but Hugill-Fontanel had to assess each piece, some of which had serious rust issues, and then strip them to the original bare metal and repaint as needed.
"We've had some tense moments when we were disassembling it because a metal piece had cracked with age, and just last week we noticed a piece missing—so Jan Maneti, senior mechanical technician from RIT's Kate Gleason College of Engineering, came to the rescue and made them for us.
"The greatest aspect of this printing press is its amazing provenance," she said. "So many historically significant people in the history of art, the history of publishing and the history of design have worked on this press. It's been a very humbling and overwhelming experience, just knowing it will be available for use by future generations of students, scholars and printers."
The Cary Graphic Arts Collection is located on the second floor of The Wallace Center at RIT. Hours are from 9 a.m. to noon and 1 to 5 p.m. Monday through Friday. For information, call 585-475-3961 or go http://cary.rit.edu.