C&D Printing Installs New Kluge Omnifold System
Wednesday, September 17, 2014
Press release from the issuing company
C&D Printing Company, St. Petersburg, Florida has installed a new Kluge OmniFold Folding and Gluing System. The OmniFold was purchased to increase C&D Printing Company's capacity and capability in folding carton work, allowing them to convert presentation folders, specialized paperboard packaging, including tuck style, push lock and auto-lock bottom boxes, sleeves and various other products.
The OmniFold serving C&D Printing is configured with both a vacuum feeder and a friction feeder to feed the widest variety of substrates, shapes and sizes and Kluge's combination angled and vertical buckle fold unit for quality, high speed crossfolds on both light and heavy weight stock. The OmniFold is designed for production environments with its ease of make-readies, flexibility in applications, and tremendous expansion potential with its modular design with production speeds ranging from 6,000pph to 30,000pph.
C&D Printing, in business for over 41 years, is an Integrated Graphic, Marketing, and Packaging Solutions Company which provides commercial printing, on demand digital printing, creative design, state-of-the-art digital pre-press, inventory management, complete bindery, mailing and print finishing services in the Tampa Bay area and across the US. C&D is well known and respected for its outstanding quality, customer service, and commitment to the environment.
"The OmniFold plays a big part in our plan to service the growing folding carton market," said Todd Pemberton, Letterpress & Finishing Manager at C&D Printing. "Our customers have motivated us to grow in this area by offering crash lock bottom boxes, tuck bottom boxes, tape application, and sophisticated folding and gluing applications as well as faster production of pocket folders and mailers. We are very pleased with our OmniFold and we look forward to providing our customers that "one stop shop" experience well into the future."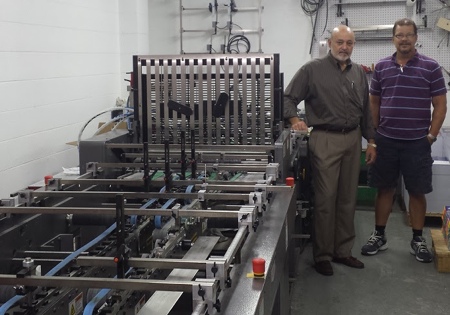 Bill Serata, Owner (left) and Todd Pemberton, Letterpress & Finishing Manager (right) stand next to C&D Printing's new Kluge OmniFold Folding & Gluing System.
To post a comment Log In or Become a Member, doing so is simple and free