Warren Outlines its Intentions and Commitment to Paper Sales
Monday, September 15, 2014
Press release from the issuing company
Warren, the UK's leading independent cartonboard and graphical board stockist, has underlined its commitment to the paper sector and shown its intention to establish and develop the new paper sales division across the East & West Midlands areas, as part of its recent rebranding and significant investment plan.
The new paper sales division, which will complement its existing board sales, will stock in depth, a vast array of product ranges sourced from well-established, leading European and worldwide mills, including a full range of both Forest Stewardship Council® (FSC®) and Programme for the Endorsement of Forest Certification™ (PEFC™) certified products.
The products on offer will include a full range of coated and uncoated paper, digital and copier grades, including business stationery and speciality products, such as envelopes, inkjet reels, carbonless paper and self adhesive.
Warren is a member of the AIMS group of companies, the UK's largest merchant consortium, consisting of leading independent paper and board merchants in the UK and Ireland. The individual members within AIMS focus on supplying their local regions, enabling them to provide a superior service and this has allowed Warren to offer a far broader range of quality products offering greater opportunities to service both the paper and board sectors.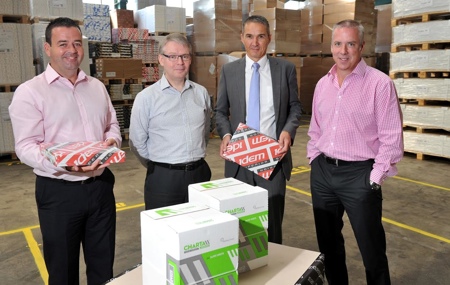 (left to right) John Turner, Mark Medley, Adrian McManus and Kieran Ferguson. Photo courtesy of Leicester Mercury
The newly established paper sales team has 55 years combined experience, bringing expertise and an in depth knowledge of the industry. The team consists of committed individuals who realise the value of building long term relationships, developing close individual and personal contact with buyers and estimators when they need the support. Warren will hold the stock so their customers don't have to.
The paper division will be aiming to provide and deliver the same excellent service for which Warren has become renowned, which is the reason for concentrating locally. Warren's aim is to become the trusted supplier of choice for paper products.
Explaining the reasons behind the development of the paper sales division and the high commitment statements, Warren Managing Director, Kieran Ferguson, said, "Our goal is for the paper side of Warren to become renowned for excellent service levels in the same way that our board side has. Our aim and intention is to build on our established reputation."
He added, "Combine that with our history, our growth of the business, year-on-year, and our ethos, and you will see we are serious in our intentions to develop a paper sales division to be proud of."
Kieran concluded, "So why place your trust in us? For all of the above reasons. Coupled with our established credentials on the board side, our services are now enhanced following the company's recent acquisition and investment of the board converting machinery from Reno De Medici UK'S Wednesbury plant, which was confirmed earlier this year. Warren aims to be the company of choice."
The significant seven figure investment in the Midlands-based business has included a new converting facility combining a reel and pallet stock operation, reel to sheet cutting, rewinding and guillotining which is now fully operational and functioning from 42,000 sq. ft. premises in West Bromwich.
With a 37-year trading history and a main facility in 112,000 sq. ft. premises in Glenfield, Leicestershire, Warren employs a team of 39 staff with combined industry experience of over 300 years.
Warren has also just completed a total rebranding across the entire business emphasising their commitment to the three key areas of the business, being board, paper and converting.
To post a comment Log In or Become a Member, doing so is simple and free