Flower City Printing Pursues Growth-oriented Productivity by Adding EFI Radius ERP Software
Wednesday, September 10, 2014
Press release from the issuing company
FREMONT, California – EFI™, a world leader in customer-focused digital printing innovation, announced that Flower City Printing, a 300-employee display and label printer based in Rochester, N.Y., has purchased an EFI Radius Enterprise Resource Planning (ERP) software package to facilitate faster, more streamlined estimating, scheduling, data collection and accounting in the company's packaging, printing and paper converting operations.
The company has accelerated its growth in the past five years, expanding beyond its core litho label and retail point-of-purchase signage offerings into flexo and digital print labels and tags. Many of the signage and packaging products are assembled at different facilities and shipped together as marketing and display kits for consumer brand goods, a process that requires the type of advanced coordination and communication EFI Radius software is designed to provide.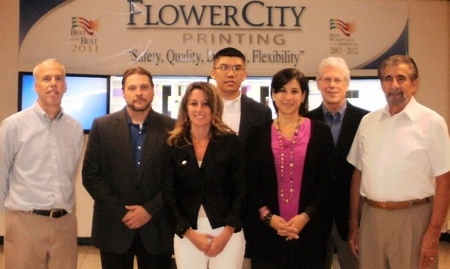 Several other ERP packages were reviewed, but Flower City company officials soon realized that EFI Radius offered the specific tools it needed.

An integrated, optimized workflow that sets the stage for continued growth

"We knew we had to make a move eventually if we continued to expand," said Kirk Ellsworth, Flower City's vice president of customer-focused teams. "Other packaging ERP systems are not flexible enough to address all the print technologies we provide. We believe Radius offers the advantage of accommodating all the different aspects of our diversified, growing operation."

Integrated functionality from job quote to final shipping will provide a distinct productivity advantage at Flower City, replacing separate estimating, scheduling, and accounting systems that do not share data as easily as the end-to-end EFI Radius system.

"Radius will give us a line of sight through the entire company," said Trieu La, Flower City's IT director. "Plus, it has the capabilities to handle a lot of unique situations in our manufacturing operations without creating complicated workarounds."

As Flower City collects data from its operations through EFI Radius, the software will help the company identify, track and reduce inefficiencies. The ability to fine tune press scheduling to ensure that a job, based on its printing and finishing characteristics, will require as little make-ready as possible and also reduce waste, are important benefits for the sustainability-minded, Chain of Custody certified firm.

Supply chain mastery for streamlined efficiency

EFI Radius software, which is currently being implemented in phases at the company, also will give Flower City even better supply chain and inventory control integration with the wholly owned paper converting subsidiary that supplies paper to its offset operations. EFI Radius shop floor data collection technology will automate many of the complex tasks required to get converted paper into print production as quickly as possible to minimize pressroom delays.

Flower City is installing the newest release of the software, EFI Radius ERP 15.1 – a version that is making its worldwide debut today at the Labelexpo Americas tradeshow in Rosemont, Ill. Companies implementing this highly scalable solution can now benefit from new mobile CRM capabilities and powerful plant optimization opportunities with EFI PrintFlow® Dynamic Scheduling. They also can extend efficiencies through their shipping departments with EFI SmartLinc Process Shipper and SmartWare shipping solutions.

"Flower City has several exciting profit opportunities: It can maximize efficiency between its paper converting and litho operations, plus it can make even smarter, data-driven decisions to continue expanding its share of the flexo and digital packaging markets," said David Taylor, general manager, EFI Radius. "The company's EFI Radius implementation will help Flower City unlock its fuller potential based on a sound, optimized workflow and growth strategy."

EFI Radius is part of a complete EFI Productivity Software portfolio of print MIS/ERP software, eCommerce and web-to-print solutions. Printing and packaging professionals across the globe rely on EFI Productivity Software products to manage their businesses and become more streamlined, efficient, informed and profitable. For more information about EFI Radius, visitwww.efi.com or contact 800-875-7117.
To post a comment Log In or Become a Member, doing so is simple and free