Kocher + Beck Promotes Weyermann
Wednesday, September 03, 2014
Press release from the issuing company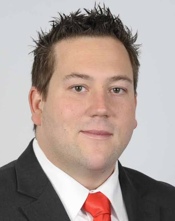 Kocher + Beck USA are pleased to announce that Michael Weyermann has been promoted to the position of Product Manager-Tec Screen (Silk screen printing material) for North America.
In this newly created position, Michael will provide customer service and technical support to Kocher + Beck customers throughout North America. Michael has 12 years of industry experience most recently serving as the Northeast Sales Manager for Kocher + Beck since 2010, as well as product support specialist for Tec Screen.
Prior to joining Kocher + Beck, Michael held the position of Process Engineer with Sancoa International utilizing Lean Manufacturing practices such as 5S, SMED and Standard Work. At Sancoa Michael worked mainly in the Pre-Press and Graphics department before becoming a Process Engineer.
Kocher + Beck's Tec Screen is a high-definition, pre-coated printing plate made of a nickel-plated stainless steel material, which is coated with photopolymer and protected against mechanical damages with a carrier foil.
The silk screen range offered by Kocher + Beck covers all screen formats, and is available for all machine types on the market. In addition, an entire range of equipment and consumables for processing screen plates is also available, allowing Kocher + Beck to be a complete solutions provider.
"I am very excited about the opportunity to focus exclusively on our Tec Screen product, and provide onsite customer support and service from a technical position", says Weyermann about his new role.
With the addition of Michael Weyermann into a Product Manager-Tec Screen role, Kocher + Beck continues a commitment to providing a solution based customer service approach to its customers.
To post a comment Log In or Become a Member, doing so is simple and free