Sakurai MS-80A Screen Press, Drying Systems Highlight SGIA '14 Exhibit
Friday, August 22, 2014
Press release from the issuing company
SCHAUMBURG, IL - Sakurai will be a featured exhibitor at SGIA '14 along with its industry partner, Natgraph in Booth 4179 at SGIA 14, October 22 -24, 2014 in Las Vegas. Highlighting the Sakurai – Natgraph exhibit will be a Sakurai Maestro MS-80A cylinder screen press running in-line with a Natgraph conveyorized hot air dryer and 90cm automatic sheet stacker.
"Sakurai's workhorse MS-80A cylinder screen press is used for a myriad of industrial applications such as tagless labels, heat applied transfers, pressure sensitive applications, printed circuits, electronics and much more", said David Rose, General Manager, Sakurai USA, Inc. "The Sakurai cylinder screen press and Natgraph energy efficient dryers present an ideal combination system when looking to achieve high productivity at the lowest cost per manufactured piece".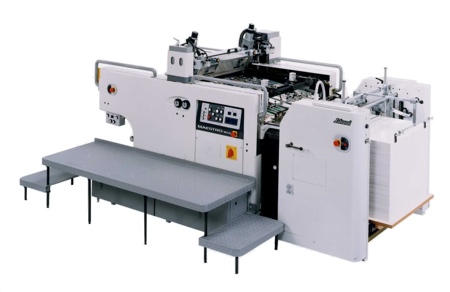 This high productivity MS-80A screen press accepts sheets up to 31 5/8" x 21 ¾" and operates at speeds up to 3,600 IPH. And, the Maestro prints on a wide range of substrates such as plastic, film, paper, board and foil with accurate spot coating and special effects.
"Sakurai presses can be found in production worldwide utilizing drying applications such as LED, UV and conveyorized forced air systems.
Also featured at SGIA will be the new CST screen imaging system now available from Sakurai. The system images and exposes the screen directly from computer-to-screen
Sakurai Maestro cylinder screen presses are available in sizes from 20 ½" x 28 ½ to 48" x 63" and are backed by responsive customer service, support, parts and training.
To post a comment Log In or Become a Member, doing so is simple and free