Druckcenter Berlin Install New ROLAND 705LV
Friday, July 25, 2014
Press release from the issuing company
A new ROLAND 705LV HiPrint press with coater and extended delivery was delivered to the PieReg Druckcenter Berlin GmbH, a long established and trusted print facility.
The new press, which replaces a ROLAND 305, compliments the other modern machinery at the Berlin-based facility such as Agfa automatic imaging, folding machines, saddle stitchers, perfect binding equipment and cutting machinery. The company prides itself in offering a total solution and their offset range also includes a ROLAND 704 with perfecting device and a ROLAND 506.
The company has 35 employees and has been producing high quality print for over 30 years for its regional, national and international clients.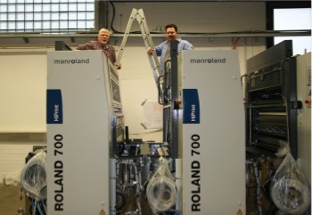 To post a comment Log In or Become a Member, doing so is simple and free