Noted illustrator Craig Frazier collaborates with Mohawk Fine Papers on new, limited-edition book, Sketchy
Thursday, July 17, 2014
Press release from the issuing company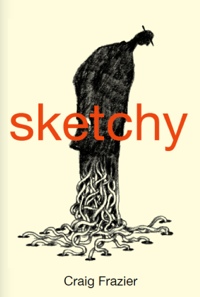 Cohoes, NY – Craig Frazier, one of the leading conceptual illustrators producing editorial, corporate and publishing work worldwide, will demonstrate the discipline of developing ideas through the process of sketching and will share his outlook on the importance of sketching as the basis for great design during a private presentation at The Foundry for Art Design + Culture in Cohoes, New York, on July 17, 2014 at 6:30 pm.
Mr. Frazier will visit The Capital Region of New York to collaborate with Mohawk Fine Papers and Xerox on the production and documentation of a new, limited-edition book entitled, Sketchy:Sketches from 1999 – 2014 by Craig Frazier. The project highlights Frazier's sketches created over a 15 year time period, curated from over 2500 vellum project sketches and 40 sketchbooks.
"For every finished illustration or design, there is a sketch sharing the same DNA." – Craig Frazier
Sketchy will be printed on Mohawk Superfine paper, using the Xerox iGen 150 digital press at Mohawk's new Print Innovation Center. The book will showcase the beauty of Mohawk fine papers and the flexibility of digital printing, with a selection of 24 unique covers scheduled to be produced. The printing and production process will be captured by video for use as a documentary by Mohawk.
"The minute I opened the first draft of Sketchy, I knew this would be a perfect match," said Chris Harrold, Vice President, Business Development and Creative Director, Mohawk. "This is process-layered upon-process: from Craig's sketching, to the creation of Sketchy as an artifact of the creative process, this project is an eloquent expression of Mohawk's commitment to the creative spirit and the power of print."
"Illustrators and artists, such as Craig, are finding new ways to use print in a digitally-crazed world. With technology such as the Xerox iGen® 150 Press, creators can personalize, customize and adapt their work with ease and efficiency. With the press' ability to print on demand, small or large quantities of masterpieces can be shared and distributed to meet individual needs," said Paul Miller, worldwide marketing manager, iGen Product Family, Graphic Communications Business Group, Xerox. "Even with the influx of digital communication, print is a valuable tool, capable of capturing the deepest emotions in Craig's remarkable illustrations."
"Sketching is a fundamental exercise for visual problem solving and has been proven to be the basis for great design by practitioners the likes of Milton Glaser, Bill Bernbach, Kit Hinrichs, Istvan Banyai, Frank Gehry, Alexander Girard, Chip Kidd and Jean Paul Gautier," said Craig Frazier. "I'm so pleased to have the opportunity to collaborate on the development of Sketchy with Mohawk and Xerox to bring this vast collection of sketches together in one printed volume."
According to Mr. Frazier, "the book is designed to appeal to students, designers, illustrators, artists and problem solvers. Its purpose is to inspire by example, the discipline of developing ideas through sketching and training to see a solution before rushing to render it."
Upon completion of the project, Mr. Frazier will present an exhibition of his work at the Gutstein Gallery in Savannah, Georgia (Sept. 8 – Nov. 1) and a workshop to faculty and students at SCADSept. 24. The Sketchy exhibition and workshop will then travel to design schools throughout the US and Canada, such as California College of the Arts (CCA), Endicott College, Boston, School of Visual Arts (SVA), Art Center College of Design, Sheridan College (Canada), Maryland Institute College of Art (MICA) and the Portfolio Center in Atlanta, GA.
Craig Frazier Bio
Craig Frazier is an illustrator/designer who has enjoyed a distinguished career since 1978. Since 1996, Craig has focused his work on illustration, though he continues to take on special assignments that incorporate both his illustration and design expertise. He is commissioned by national and international design firms, advertising agencies, and publications to create distinct illustrations. He is a frequent contributor to the NY Times as well as business publications like Time Magazine, Fortune, Business Week, Harvard Business Review, and The Wall Street Journal to name a few. He collaborates with design firms and ad agencies to promote and brand major corporations. Amongst those companies are Adobe, American Express, Boeing, Chevrolet, Deloitte, MasterCard, Navigant, The Royal Mail, and United Airlines. Craig has created six postage stamps including the 2006 Love stamp and the 2010 and 2012 commemorative Scouting stamps.
Craig has published a 176-page monograph titled The Illustrated Voice, (Graphis Press, 2003.) He is the author and illustrator of several children's books.
To post a comment Log In or Become a Member, doing so is simple and free