Aspen Marketing Services Improves Technology Edge with New Colter & Peterson Saber® Paper Cutters
Wednesday, July 09, 2014
Press release from the issuing company
Paterson, NJ – You have to be better than good when producing nearly 250 million pieces of direct mail annually. When you're a part of a company that was recently ranked the world's top largest CRM/Direct Marketing network by Ad Age, technology keeps you ahead of the curve and the competition. Such was the case that led Aspen Marketing Services (www.aspenms.com) in Earth City, Missouri to recently install two new cutting edge Saber® X15 paper cutters from Colter & Peterson (www.papercutters.com).
Equipped with the Microcut™ system, a popular computerized back gauge program with over 30,000 worldwide installations that improves production time, the workhorse 45" paper cutters represent a significant upgrade for Aspen, a division of Epsilon, the global leader in creating customer connections that build brand and business equity.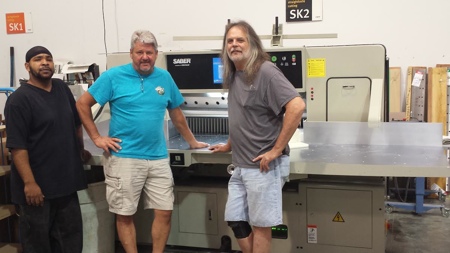 Located about 25 miles northwest of St. Louis, the Aspen facility handles direct mail production for many of the top Fortune 500 companies in the automotive, CPG, financial services, healthcare, insurance and retail industries. When two POLAR cutters began showing their age, the team responded quickly in their search for replacements.
"We were at the Print Show in Chicago last September when we saw the Saber, Perfecta and Challenge cutters. The Saber was clearly the most effective, impressive and user friendly machine in today's market," said Mike Powell, Senior Manager of Production at Aspen.
But the Chicago recon was just the beginning. "We were just about to enter our peak season and it was getting harder to keep the POLARs running," recalled Powell. "Bruce Peterson came out and visited with us in early October, He had a used cutter in town that was available and he offered to loan it to us until the new Sabers were ready. When they arrived in mid-April, it took just a few days for installation and the training went very well."
Manufactured to ISO-9001 standards with automatic knife adjustment, the Saber X15s offer a full range of benefits and safety features. Designed with cutting edge technology, the Microcut® 15-inch wide format color touch screen provides easy to use programming and control options. Programs can be uploaded from a network or with a USB device using CIP ¾ files, and no additional hardware or software is needed.
"Fully automated and more user-friendly," noted Powell, "these safety-oriented machines have integrated seamlessly into our business. We are confident they will allow for a smoother, more productive and efficient output on behalf of our clients."
To post a comment Log In or Become a Member, doing so is simple and free