Tom Rizzi Joins Proforma as Senior Vice President of Business Development
Thursday, June 26, 2014
Press release from the issuing company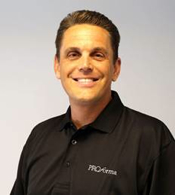 CLEVELAND – Tom Rizzi, formerly Chief Sales Officer with WorkflowOne, has joined Proforma as its Senior Vice President of Business Development. Rizzi will be a member of the Proforma Leadership Team and will report directly to Greg Muzzillo, Founder of Proforma. He will be helping to win million dollar plus opportunities in major accounts with Proforma Owners and in recruiting top industry talent to join the Proforma organization.
"I am very excited to welcome Tom Rizzi to the Proforma Family," said Greg Muzzillo. "Tom brings an impressive track record of helping teams win multi-million dollar accounts and in recruiting top industry talent. We are looking forward to connecting Tom with our Million Dollar and Multi-Million Dollar Owners to them win big opportunities. He will also be working closely with our Talent Acquisition and New Owner Development teams."
Rizzi comes to Proforma with more than 25 years of strategic planning and business development experience. Working with clients such as Coors Brewing Company, Novation, Verizon, American Heart Association, Nieman Marcus and more, Rizzi has helped win more than $1 billion in sales throughout his career. His expertise in working with North American and Global accounts will enable him to help Proforma Owners identify high level opportunities, develop client solutions and increase their bottom line.
"I've worked with many distributors in this industry and only Proforma offers the tools and resources to put Owners in the best position to succeed," said Rizzi. "I'm thrilled to join the Proforma team and help further the mission of helping Owners achieve their dreams by securing profitable opportunities, adding the industry's best Sales Reps to their teams and growing Proforma together."

Proforma's Business Development Teams have closed more than $40 million in new sales year-to-date and added more than $600 million in new opportunities to Proforma's pipeline year-to-date. Rizzi will be working with these teams to help win and grow large opportunities in the pipeline.

"Our next major goal is to achieve $1 billion in sales and I am confident Tom Rizzi will help us get there," said Muzzillo. "We are putting the right people in the right positions to help our Owners secure more major accounts competing at C-level."
To post a comment Log In or Become a Member, doing so is simple and free