What's On Magazine Reveals Exciting Prizes via Ogle Augmented Reality in 35th Anniversary Issue
Monday, June 16, 2014
Press release from the issuing company
Celebrating 35 years of publishing in a big way, What's On Magazine publishes their biggest birthday issue crammed with vouchers, record-breaking competition giveaways and Augmented Reality (AR).
The free-to-download Ogle App adds a virtual display on top of the real physical world around you, harnessing the latest in Augmented Reality technology through a tablet/smartphone/PC to provide a rich audio-visual experience. With adverts compatible with OGLE, a user holds their smartphone over the activated page. The app recognizes the page and displays buttons, images, videos and other contextual digital content over the image on the page. Users can click on any of that content to be put through to a digital destination such as a website, video, web-shop, Twitter feed, Facebook page and more.
Using this technology, the entertainment magazine injects even more LIVE entertainment into its pages with Ogle AR. By installing the free Ogle app on their smartphones, readers can gauge the scale of giveaways by scanning the cover of the magazine, and seamlessly access entry forms for the 500 prizes available, bringing the prizes closer than ever before to the readers of What's On.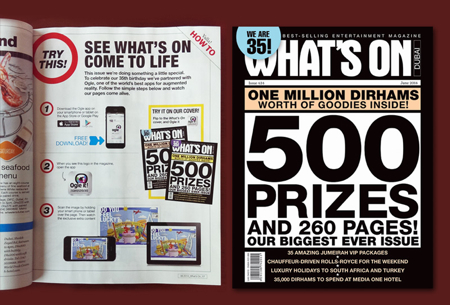 Readers also get a unique chance to listen to and watch Ian Fairservice, Group Editor and Manager, reminisce the humble beginnings of Dubai and what inspired the creation of What's On magazine. And watching the What's On Eating Challenge is more fun than reading about it! Readers are treated to a teaser of writer, Robert Chilton attempting the largest ice cream Sundae in Dubai. The fun, action and writer's personality captured on video is quick and easy to share with readers through Ogle Augmented reality.
This is a sure-fire way to create further brand loyalty with readers by creating an attachment to personalities. The benefits of augmented reality are being realised by more by publications that are using the technology to add a level of engagement and interaction to their pages and even drive digital online content via the Ogle app.
With QR Codes fading away into the past, Image Recognition is catching the eye of both publishers and advertisers. This is an interesting time for publications as they find invigorating ways to engage audiences. What's On has seen the potential of the relationship, and is now positioning themselves at the forefront of the wave of publishers and companies that are now moving into the Augmented Reality arena, by strategically aligning with the regions number 1 augmented reality app.
John Dickenson, MD of Ogle AR says: "We are excited to be aligned to this flagship brand within the Motivate publishing empire, and the opportunity to build on this relationship, to spread the emerging technology to consumers across the UAE. We genuinely see publishing partners such as Motivate and What's On as key strategic allies due to their unique position in delivering our free of charge application to the mass market."
It may be early days for augmented reality adoption in the mainstream world, but a strong business case, combined with rapid uptake in smartphone adoption, will soon transform this niche technology into a marketing mainstay.
'With mobile data usage on the rise, levels of mobile broadband penetration (as a percentage of total connections) in some Middle Eastern countries are now eclipsing their Western counterparts. Furthermore, the region now has 17 LTE networks spread across eight countries,' according to data from GSMA Intelligence.
After just 18 months of business, Ogle AR has enjoyed working on campaigns across the region as well as in USA, Malaysia, Australia, Singapore and UK, showing significant growth so far in 2014, and only expect this growth to speed up given the advancements in technology, network speeds, and pending the release of new exciting updates they have planned for the year, which will give consumers more engaging experiences, and allow brands to deliver more exciting campaigns through the Ogle platform
To post a comment Log In or Become a Member, doing so is simple and free