Successful interpack 2014 for KBA Group
Tuesday, May 27, 2014
Press release from the issuing company
The whole is greater than the sum of its parts
The companies belonging to the Koenig & Bauer Group (KBA) were all very pleased with the results of their first joint appearance under the banner "KBA: The Right One" at trade show interpack 2014.
Many visitors from Germany and abroad, who had previously only worked with one company in the press manufacturing group, were amazed by the breadth of the range on offer for the extremely diverse packaging market. Analogue and digital coding technology from KBA-Metronic, UV film and card printing from KBA-MePrint, full-colour metal decorating from KBA-MetalPrint, folding carton and corrugated printing from KBA Radebeul, digital decorative and industrial printing from KBA Würzburg, printing systems for flexible packaging from KBA-Flexotecnica, and finally direct decoration of glass and hollow containers from KBA-Kammann – the high-quality product samples on show from each segment were all received with great interest. KBA staff from the various companies were on hand to discuss possible combination solutions and a lot of new ties with representatives from the packaging industry the world over were established.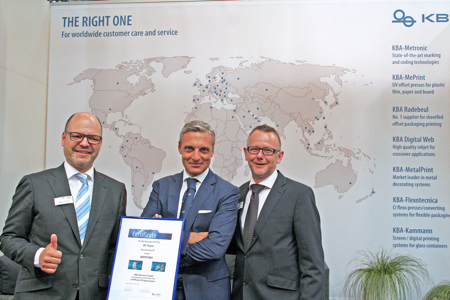 This first joint trade show presence at interpack also encouraged the KBA companies involved to exchange ideas. According to the old saying "The whole is greater than the sum of its parts", in the future greater advantage will be taken of possible potential for synergies arising from different technologies for packaging printing as well as the transfer of know-how will increase between the different sites. This much is already clear today: The companies belonging to the KBA Group which target packaging printers will be present together again at interpack 2017 with a raft of innovative packaging solutions.
To post a comment Log In or Become a Member, doing so is simple and free