Gandy Digital uses FESPA Digital as worldwide launch platform for new entry level SL8TE Hybrid and True Flatbed printer portfolio
Wednesday, May 21, 2014
Press release from the issuing company
Gandy Digital, the Canadian manufacturer of digital inkjet large format printers, today announces the official launch and first public showing of its new SL8TE Hybrid and True Flatbed entry-level portfolio of UV inkjet printers at FESPA Digital 2014 (B2-450).
Ideal for sign shops looking to move into direct-to-board printing for the first time, or printers looking for the increased application flexibility of having both a flatbed and roll-to-toll, the SL8TE portfolio ensures a comfortable, low cost and low risk route to business growth and increased profitability. It achieves this with Gandy Digital's robust build quality, ultimate high quality print and customer service benefits.
Hary Gandy, Gandy Digital, CEO comments: "We are very excited to show our new SL8TE portfolio to FESPA Digital visitors. Despite there being a number of entry-level hybrid and flatbed options on the market, we have utilised our 30 years of experience and market leading print technology to develop products that provide a perfect and unforeseen blend of affordability with high print quality.
"This now enables sign shops to make the important step-up to direct-to-board printing, with greatly reduced risk. In addition, for businesses looking to offer a diverse range of applications, our flatbed and roll-to-roll Hybrid models provide the best of both worlds, in an easy to use, low cost platform."
In addition to the introduction of SL8TE, Gandy Digital comes to FESPA Digital with other important enhancements to its larger, higher volume, Pred8tor and Domin8tor models. Featuring new Gandy Digital High Density Inks, both product ranges now offer a 50% increase in print speed, and a revolutionary crash sensor that significantly reduces printer downtime and printhead damage.
New Gandy Digital SL8TE Hybrid and True Flatbed Portfolio
As used in its other Gandy Digital printer models, the superior high print quality achievable from every SL8TE printer model is driven by advanced Ricoh Gen 4, 6 picoliter printheads, mixed with specialist Gandy Digital technology. This makes the new Gandy Digital printer portfolio ideal for rigid and flexible applications requiring high quality print, such as POP, POS, backlit displays and self adhesive vinyl.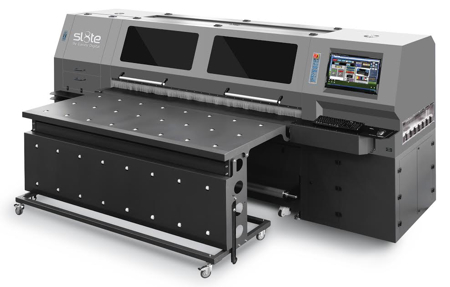 Customers of any new SL8TE model are also offered printers featuring four or six colours, plus white and a clear varnish. Uniquely to SL8TE printers, the white ink and clear varnish options are built in-line, enabling them to be printed simultaneously with the other process colours. This capability affords customers significant production efficiencies - typically increasing job turnaround by up to 50%.
The addition of a highly effective, yet simple, Crash Sensor, protects the printheads and printed substrates and provides further substantial annual savings by reducing waste.
New SL8TE Hybrid - Gandy Digital's new SL8TE Hybrid models are available in widths of 1.6m (5'3"), 2.2m (7'2"), 2.6m (8'6") and 3.2m (10'5"). Each product allows customers to print flatbed or roll- to-roll (rewind and unwind with precise tension control), with continuous feed for higher throughput and the option of extra heavy duty extension tables for printing on to extra long rigid materials.
New SL8TE Flatbed - Gandy Digital's new SL8TE True Flatbed printers are available in 1.6m (5'3") X 2.6m (8'6") and 2.6m (8'6") X 3m (9'10") widths. SL8TE True Flatbed comes with pin registration and sectional vacuum zones, holding uneven materials flat, for consistently sharp print quality regardless of substrate. In addition, all models feature a back blower for quick and easy removal of printed substrates. For additional production flexibility, a manual roll-to-roll attachment is available for all SL8TE True Flatbed models.
New enhancements to Gandy Digital Pred8tor and Domin8tor printers
On show for the first time, Gandy Digital's Pred8tor and Domin8tor high volume print models, offer a host of new features to ensure streamlined production, increased profitability and an average return-on-investment (ROI) time of just 12 months.
Available in a range of UV flatbed or flatbed and roll-to-roll options, Pred8tor and Domin8tor printers utilise Ricoh Gen 4 printheads with Gandy Digital specialist technology, delivering market leading print quality. Today, with a host of new features, the printers offer the same sharp print detail, but with true market leading print speeds and cost saving benefits.
New features include:
New Crash Sensor – Enabling €10-15,000 annual savings

Removing the possibility of a collision between the printhead carriage and a printed job being removed from the printer, the simple yet effective Gandy Digital technology, allows typical annual savings of between €10-15,000 per year.
Featuring Gandy Digital's new High Density Ink technology, all Pred8tor and Domin8tor printers now provide the same print quality, but with less ink use per square metre. In combination with a key software upgrade, this new feature delivers an increased print speed of up to 50%, enabling customers to significantly increase productivity.
Hary Gandy concludes: "With a new strategic direction and business focus, I believe that we come to this year's FESPA Digital with one of the strongest product portfolios on the market. What's more, with products featuring truly unique and revenue-building innovations, our users are equipped with the technology to grow their businesses and meet the ever-changing demands of their own customers."
To post a comment Log In or Become a Member, doing so is simple and free