Market-Leading X-Rite eXact Spectrophotometer Platform Extended with New Scan Capability (Commentary by Cary Sherburne)
Wednesday, May 21, 2014
Press release from the issuing company
Benefits include ability to measure small color strips and extend the lives of older presses that don't have in-line color measurement capabilities

GRAND RAPIDS, Mich. - X-Rite, Incorporated today announced the
availability of eXactT Scan, a new option that extends the functionality of the X-Rite eXact spectrophotometer platform. eXact Scan adds unmatched speed, flexibility and new quality control tools to the market-leading eXactT color measurement instruments for the printing and packaging industries.

When combined with InkKeyControl software from X-Rite, eXact Scan enables color management at a low cost of entry, enabling printers to extend the useful lives of their presses. InkKeyControl allows printers to achieve faster make-ready and improve quality control through control of ink keys. It displays real-time measurement results in a graphical red/yellow/green "traffic light" report, which enables press operators to quickly manage changes as they print.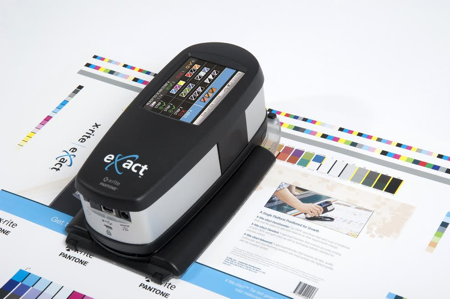 "The eXact Scan adds value to the eXact platform far beyond its incremental cost," said Warren Werbitt, CEO of Pazazz Printing in Montreal, a certified G7 Master Printer that specializes in conventional offset printing up to 56 inches, digital printing, flexo and digital labels, packaging, wide format and mobile solutions. "We first migrated to the eXact to make the transition from using print density in quality control to the more accurate spectral readings.

"In addition, with the Scan option, we have more capability to deliver the higher quality our customers expect. With eXact Scan, we can now comfortably hold on to an older press that we were not ready to update or retire." Pazazz was a beta test site for eXact Scan.

The eXact Scan option extends the instrument's ability to accurately read conventional and non-continuous strips for quality assurance applications, such as flexo printing for packaging. Also, it is the ideal solution for offset litho printers that have large capital investments in older presses that aren't equipped with in-line color measurement capabilities.

"X-Rite eXact has been well-received in the marketplace," said Dan Magnia, print and packaging market manager for X-Rite. "Building on that success, we developed eXact Scan in response to suggestions from our customers about how to add even more value to the instrument. With expected high product demand, X-Rite is proud to offer a loyalty program to current eXact owners so they can be the first to take advantage of upgrading their equipment to include
this new capability."

With a few simple steps, pressroom personnel can install the new eXact Scan chassis and software to greatly extend the ability of the eXact spectrophotometer to accurately read different length color bars on a variety of printed materials.

In addition, eXact Scan can:
Transfer data to an application such as MicrosoftR Excel for further analysis and reporting; and,
Integrate with the new 2.5 release of ColorCertR: X-Rite Edition to allow operators to scan color bars, including user-designed color bars, and provide full insight into potential production issues.
X-Rite eXact, including the Scan option and all associated software
solutions, is available immediately on a worldwide basis through X-Rite channels and directly from X-Rite. For more information about X-Rite eXact and other X-Rite solutions, please visit www.xrite.com/eXact.
---
Commentary by Cary Sherburne
I find this addition to the X-Rite eXact platform quite interesting. It
extends the range of the eXact platform by allowing it to scan both large and small color bars normally used in packaging (from 2" to 44") and users can design custom color bars as well. They have thought through the ergonomics and usability with a scan chassis that snaps on to the bottom of the instrument. But what I also find quite interesting is the positioning within the commercial print market that the eXact with Scan Option can extend the life of older presses that are not equipped with in-line color measurement capabilities--and there are, I am sure, lots of those out in the field.

In a world where reduction of time to market, waste and cost is critical, and where brand owners are still very concerned about the integrity of their brand colors, a cost effective means of ensuring accurate color is more important than ever before, and the expense of acquiring a new press or adding in-line color measurement can be prohibitive for many smaller printer, this is an interesting side benefit for the device.

Although it doesn't say so in the press release, other documentation I
reviewed on the X-Rite eXact reflects that the instrument takes into account the optical brighteners that are in increasing use in both inks and papers. This doesn't really have to do with the Scan Option, but I thought it was an interesting capability that I don't really hear others talking about.

Werbitt's comment about transitioning to spectral versus density
measurements was also interesting. I would be interested in hearing from our readers on this topic -- is it becoming more common to use
spectrophotometers or are most companies still relying solely on ink density readings? While I am certainly not an expert, I would tend to agree with Werbitt on this score. Comments?
To post a comment Log In or Become a Member, doing so is simple and free