TICCIT Program Participation Up 22% from Last Year
Tuesday, May 06, 2014
Press release from the issuing company
SPRINGFIELD, MA - From April 21-25, 2014, a record 28 member companies of the Paperboard Packaging Council (PPC) distributed 14,500 saplings to students and community members through TICCIT ("Trees Into Cartons, Cartons Into Trees"), an educational program sponsored by PPC that promotes planting trees in recycled cartons or paperboard boxes as a way to highlight the importance of recycling and the sustainable nature of paper-based packaging.
As part of TICCIT, volunteers show students how to plant saplings—most of which were sourced from the Arbor Day Foundation—in paperboard boxes. The children then learn how to transfer the saplings in these biodegradable cartons to a local park or back yard. Once grown, the trees can restore areas that have been damaged by fire or disease; provide a natural and beautiful way to cool one's home, school, or workplace in the summer; and in the winter, mitigate powerful wind gusts.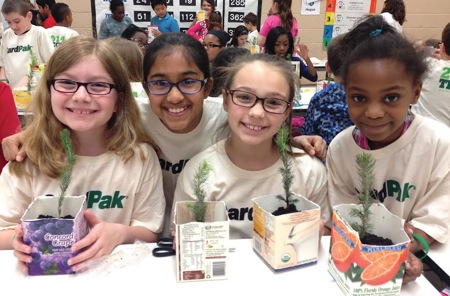 "We are thrilled that this vital educational program is gaining such critical traction," says Kim Guarnaccia, TICCIT Program project manager and PPC Director of Marketing. "Next year we hope to widen the scope by encouraging non-members and teachers to participate; the more who are touched by the program, the more schoolchildren are likely to better understand a tree's role in our ecosystem and the sustainable story of paper."
Participating companies include:
Accord Carton Co.
American Carton Co.
Apex Paper Box
Artistic Carton Co.
Bell, Inc.
Carded Graphics
CardPak Inc.
Clearwater Paper
Dee Paper Box Co.
Frankston Packaging
Graphic Packaging Int'l
Graph-Pak Corp.
Imperial Packaging
Innomark Packaging Solutions
Joe Piper Inc.
Kapstone Paper Co.
Kiwiplan, Inc.
Nordson Corp.
Proteus Packaging
River Valley Paper Co.
Southern Champion Tray
The Standard Group
Thoro Packaging
TPC Printing and Packaging
Unipak, Inc.
Western Slope Ind.
WH Leary Co.
Zumbiel Packaging
For info on how you or your company can participate any time during the year, visit paperbox.org/TICCIT.
To post a comment Log In or Become a Member, doing so is simple and free