Agfa Graphics adds primer option to Jeti Titan S and HS flatbed inkjet printers
Thursday, May 01, 2014
Press release from the issuing company
The Jeti Titan HS made its North American debut at the International Sign Association's Sign Expo last week in Orlando. In May, it will also be shown at FESPA Digital in Munich, Germany. Its newly added primer option improves ink adhesion and extends the durability of prints.

Incorporating the latest generation 1,280-nozzle Ricoh Gen 5 print heads, the Jeti Titan S (speed) and HS (high-speed) combine exceptional print quality and high productivity at a best-in-industry price point. They are ideal for high-value work like POP/POS viewed at close range or for the high-level art, fashion and cosmetics markets.

A new digital primer makes the Jeti Titan S and HS even more versatile. Digital primer is typically used to print outdoor signage and displays on low-cost yet more difficult (in terms of adhesion) materials (e.g. fluted polypropylene) with the objective to extend the durability of the prints.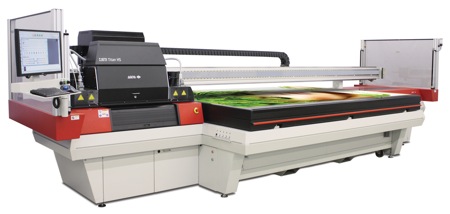 Agfa Graphics' digital primer solution can be applied to the entire image or 'spot-wise' only. It is subsequently cured by the printer's UV curing system. Digital primer vastly improves adhesion without sacrificing either the maximum density or the ink color gamut

US company Phase 3 Marketing & Communications expands business with Jeti Titan HS
Recently, Atlanta-based marketing services provider Phase 3 Marketing & Communications became the first company in the USA to install a Jeti Titan HS. The company had been using a 36-head Jeti Titan 3020 successfully for years.

"Compared to our other flatbed equipment, this machine uses far less ink to obtain the same, if not better, quality. The Jeti Titan HS will bring faster speeds, better quality and more output. It will be a great complement to our existing machinery for digital POP printing", said Gail Turner, Senior Vice President, Operations & Purchasing, Phase 3 Marketing & Communications. "On top of that, Agfa Graphics does an outstanding job with their service and support. We feel that they set the bar for service performance."
Jeti Titan S and HS come with Agfa Graphics' Asanti workflow for the sign and display market, which adds color management and automatic pre-flighting. This not only provides consistent quality but also minimizes errors, thus increasing productivity and saving time. Asanti is completed by the Asanti StoreFront cloud-based web-to-print system, which comes as an optional low-investment SaaS solution.
More about the Jeti Titan S and HS
The 3x2m (122x79 inch) six colors plus white Jeti Titan S is equipped with one row of print heads and is field-upgradeable to two rows to increase productivity. The Jeti Titan HS comes with two rows of print heads. Reflecting market demands, the default set-up for both models is six colors plus white (CMYKLcLmWW). White printing supports different modes including overprint, under-print, spot, under-spot, fill and over-spot for rigids and pre-white for roll media.
The "flat-to-roll" option on the Jeti Titan S and HS give users the ability to print flexible media with the same high quality and resolution as rigid materials and this at the full maximum media width (3.2m).

Thin ink layer technology
Thanks to the 'thin ink layer' pigment dispersion technology, Agfa Graphics' large gamut of UV-curable inks enable printing on a broad range of durable indoor and outdoor applications on flexible materials, including top quality banners, self-adhesive vinyls, and front- and back-lit graphics. These inks deliver the highest quality prints with the lowest ink consumption per square meter in the industry.
To post a comment Log In or Become a Member, doing so is simple and free