MBO America Announces the World's Fastest Folder: K8 RS
Friday, April 18, 2014
Press release from the issuing company
Philadelphia - MBO America, provider of the most comprehensive range of postpress equipment in the marketplace, announces the availability of its lightning ­fast K8 RS combi­folder. Revealed this past fall at the MBO International Open House event in Oppenweiler, Germany, and then at MBO China, the popular K8 RS is now available in North America. Video of the K8 RS may be viewed here.
Increased Speed, Increased Performance
The K8 RS combi­folder from MBO is capable of production speeds up to 275 m/min, making it the world's fastest folding machine and representing a 20% increase in production output over the previous model ­­ the K8 Perfection. With the newly revamped K8 RS, finishing job speeds match that of sheetfed offset presses, allowing for 1:1 printing to folding.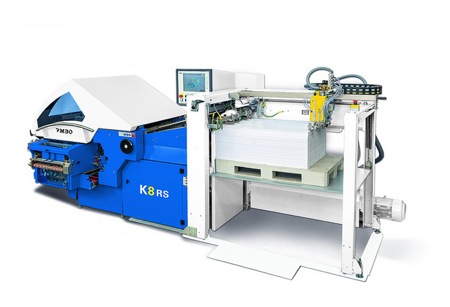 "The K8 RS defies description in this market segment," says Lance Martin, MBO America Director of Sales. "The increased production speed in the K8 drive motor is largely due to technological advancements, but several other key advancements were also made.
"Along with the improved drive system, the Vaculift infeed system was re­engineered for increased performance, and an intelligent sheet control monitoring system has been equipped on all K8 RS machines to ensure that the paper is always under control at these speeds."
K8 RS Customization
Like its predecessors, the K8 RS can be outfitted with variations of the S­KTL and S­KTZ crossfold units. The K8 RS can also be equipped with an automation package to improve make­ ready times. The unmatched production speed and quick setup times of the K8 RS gives customers the potential to get jobs in and out the door faster than ever before.
To post a comment Log In or Become a Member, doing so is simple and free