Italian printer expands 'environmental' printing portfolio with a second Goss Universal XL
Tuesday, April 08, 2014
Press release from the issuing company
Union Printing will add a further Universal XL press to its existing Goss press facilities at the Viterbo site, just north of Rome, this spring. The decision to expand comes as a result of high demand for the company's services and, in particular, for its high-quality coldset print solution.
The new Universal XL consists of a four-high tower, with 578 mm cut-off and 1700 mm web width, plus a folder equipped with quarter fold. This expansion will increase capacity for its growing market of 'GDO' (Grande Distribuzione Organizzata) products, primarily supermarket flyers and retail inserts.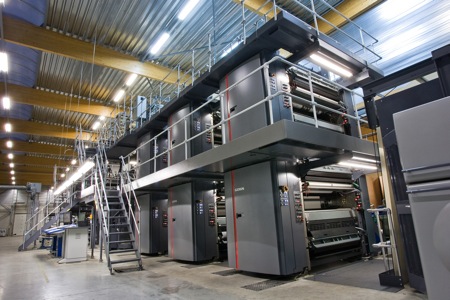 The key deciding factor for the second Goss Universal XL was its proven coldset capability to print high-quality products.
"We have built on the success of our first Universal XL press installation," comments, Roberto Pepponi, managing director of Union Printing, "so it was the natural next step for us to develop further with the technology and applications that have proven themselves so well. The productivity of our existingUniversal XL press is vast, the print quality is high, the cost of production is lower and, most importantly, our customers are happy. The response from customers to our first installation was excellent and we believe that there is an opportunity to gain further market share with the second."
Founded in 1974, Union Printing is a family-owned and -run company, dealing in commercial and semi-commercial printing using a range of printing equipment. Despite challenging times in the market, Roberto Pepponi, has continued to build his business through an unconventional approach to providing a more environmentally friendly and cost-effective print service.
The original Universal XL installation at Union Printing, the first of its kind worldwide, resulted directly from Pepponi's unique vision to harness the power of top-quality coldset printing for application to a traditionally heatset product type.
Its application of web offset technology enabled the company to join the Ecompany Prints project. As part of the project Union Printing has been able to consistently measure its carbon footprint, gaining the SA 8000 certification, and firmly cementing its values both for print service provider and end customer.
The company continues to increase production print volumes; its current Universal XL press runs three shifts per day, six days a week.
"Union Printing has become a market leader in Italy through recognizing the need to grow in an increasingly green-aware environment, and with a cost-conscious customer base," explains Jennifer N'Guyen, area sales manager for Goss International. "As a result Union Printing has continued to go from strength to strength. The new Universal XL press will provide the means for the company to keep growing in line with its exceptional industry vision."
To post a comment Log In or Become a Member, doing so is simple and free