G&H Soho banks on new Colter & Peterson Accutrim HD1680 three knife trimmer for book production needs
Monday, February 17, 2014
Press release from the issuing company
Paterson, NJ – Now in their 29th year of operation at G&H Soho Inc., Jim Harris and Gerry Burstein have experienced the incredible highs and lows of owning a business in the printing industry. The small Elmwood Park, New Jersey shop has always operated in the metro New York City area and business for the niche book printer is certainly on the upswing.
Harris plans to hire more employees this year and perhaps sooner than he expected. In mid-January, G&H Soho became one of the first in the NYC market to install a new Accutrim HD1680, a fast, efficient and flexible three knife trimmer from Colter & Peterson to handle the influx of hardcover, paperback, spiral and saddle stitched work. They also bought a Polar 66 reconditioned paper cutter from C&P to cut book covers and jackets.
"Since we purchased the three knife trimmer and paper cutter, we've booked so much new work. For us, it is a win-win-win situation," remarked Harris, who serves as President of the company. "After nearly 30 years, we know the book business. It's in our DNA."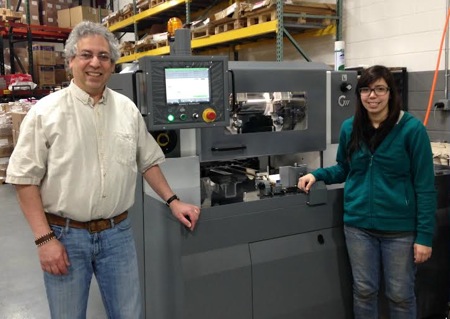 Harris also knows how important it is to seize the moment when business is good. His father and uncle began the business in 1946 called Ganis and Harris, and Burstein began Soho Studio in 1971. They decided to combine companies in 1985. Twenty years ago, desktop publishing success led the way; they were one of the area's first to use digital information for publishers' bound galleys with DocuTech. Business was booming and the company moved to Hoboken.
Belt tightening and DocuTech led G&H Soho through tough times in 2001 when two major clients informed Harris on the same day that they were taking advantage of cheaper rates in India for typesetting books. The company survived the recession in 2008-2009, only to have the bottom fall out in 2010. But the turning point for today's renaissance came from a decision to move to their current 12,500 square-foot facility in May 2012. Five months later, Hoboken was devastated by Hurricane Sandy.
G&H Soho is now a complete digital shop. An Indigo press handles the color books, color inserts and both paperback and hardcover covers. There's also an Oce press to print black and white text and a Horizon 270 binder. Harris says the average run length is typically between 100-300 copies, with the occasional run of 2000 run copies. Half of the work is 6" x 9", and they also do 7" x 10" and 8" x 11" sized books primarily for academic and university publishers and individuals.
What sets them apart from other digital book printers is the willingness to print non-standard sizes and customize the book to satisfy their clients. The shop is humming, running 15 hours a day during the week and a 10-hour shift on Saturday.
Last September, Harris says he and Burstein discovered they had a problem in their bindery department.
"We had a bottleneck when it came time to trim the books. As we got busier, our people began competing for time with the existing paper cutters. Realizing we had a problem, we approached Bruce Peterson since their office is less than five minutes away. We needed a solution to make our situation significantly better. He understood that going forward, we needed to increase productivity."
At the time, C&P - North America's largest independent distributor of paper cutters and paper handling equipment - had just made headlines at Print '13 in Chicago when it introduced the Accutrim HD1680. User friendly, it offers a maximum book thickness of 3.5", with a maximum trim size of 11.8" x 16.5" and a minimum trim of 3.15" x 3.15". The computer controlled make-ready allows through feed or one-man operation, and it has a slew of benefits that are usually not associated with off-line, on-demand three knife trimmers.
Harris recalls it was Vince Payne, C&P's Vice President, who called and asked him to consider the three knife trimmer.
"I was really impressed when I met with Vince to see the three knife trimmer in operation at one of their customer's shops in Maryland. Until I saw it, I originally thought it had too many moving parts and would be down too often. I was surprised that was not the case, and it has proven to be a very productive machine with a relatively easy changeover to go from 6" x 9" to 7" x 10" or 8" x 11", or any size in between. And the longer warranty (two years for parts) was another key issue in the decision process."
The Accutrim HD1680 has a 5-degree swing angle that delivers the highest quality cut for his operators, and it reduces wear and tear while extending the life cycle of the knife. The minor format changeovers typically take less than one minute, and complete format changes can be made in less than three minutes, another important factor to the G&H Soho team.
"We're having a great time and the three knife trimmer is doing 80% of the book trimming," summed up Harris. "In addition to our regular publishing clientele, we are now printing books for professional photographers and galleries in New York City. We're also utilizing our warehouse space and doing fulfillment work. We've been able to expand our services and client base at the same time. I feel pretty confident about the future of books and the long term success of our company."
To post a comment Log In or Become a Member, doing so is simple and free