Standard Horizon Customers Add Perfect Binding, Bookletmaking, and Saddlestitching Capabilities
Tuesday, February 04, 2014
Press release from the issuing company
ANDOVER, MA – Standard Finishing Systems, a leading supplier of post-press and paper handling solutions for the graphic arts and print on demand markets, announces the following new product installations:
Texas Bindery Service Installs BQ-470 Perfect Binder
With the help of local Standard dealer Precision Finishing Equipment, Cedar Creek, Texas-based Texas Bindery Service kicked off 2014 with a brand new Standard Horizon BQ-470 Perfect Binder that leverages PUR adhesive. The bindery and finishing specialist offers a range of services to commercial printers, including perfect binding; cutting and folding; saddlestitching, Wire-O, and plastic-coil binding; lamination and shrink-wrapping, and more. The team at Texas Bindery Service lauded the installation and training, noting the service was detail-oriented and no question was left unanswered.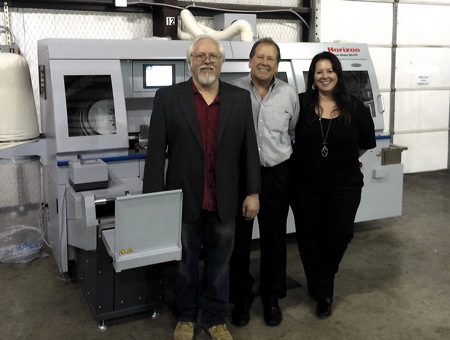 In front of the new BQ-470 Perfect Binder at Texas Bindery Service are Owner Keith Nagy (left) and Chief Operating Officer Sonja Nagy (right) with their local Standard dealer, Donald Long, Owner, Precision Finishing Equipment (center).
With this installation, Texas Bindery Service expanded its perfect binding capacity and capabilities, according to Sonja Nagy, Chief Operating Officer (COO). The BQ-470 is a four-clamp, fully automated technology with interchangeable EVA- and PUR-adhesive applications. The system is simply controlled by a 10.4-inch touch-screen, which Nagy notes was important to their operations – being able to achieve the same level of quality and productivity, no matter how skilled and experienced on the device the operator may be. She's also particularly appreciative of the flexibility the new investment affords. Binding publications up to 2.5-inches thick, the Standard Horizon BQ-470 Perfect Binder can produce up to 1,350 perfect-bound books per hour. "All the operators are highly excited to operate this binder, because they want to shine! The exact registration and easy changeover, with the ability to store setups for repeat work, are the features that I find most attractive," remarks Owner Keith Nagy.
The Bindery Installs SPF-200L Landscape Bookletmaker
The Bindery, San Diego, serves a regional market place comprising printers throughout San Diego County, according to General Manager Tim Crabtree, who notes that the business was built on word-of-mouth and reputation. A full-service trade bindery, the company is equipped with an array of binding and finishing technologies, enabling them to manage most any cutting, folding, saddlestitching, or perfect binding job.
The Bindery recently retired a Standard Horizon bookletmaker – that had dutifully served the company for more than 17 years – in favor of a new Standard Horizon SPF-200L Landscape Bookletmaker, which produces landscape-format booklets at speeds of up to 3,500 booklets per hour. This also added a new capability to The Bindery's menu of services. "This gave us more versatility to do larger books," Crabtree explains.

Paper Tiger Pressman Duane Dunkin (left) and Binder Operator Manuel Garcia (right) stand with the company's new Standard Horizon StitchLiner Saddlestitching System.
With a 10.4-inch touch-screen, operators can easily control the Standard Horizon SPF-200L, which can accept digitally printed output from HOF high-speed sheet feeders, or conventional offset print when it's paired with a collating tower. The Bindery invested in a two-tower VAC-1000 Collator with a patented rotary-pulse vacuum-feed system. Crabtree marveled at the seamless installation, crediting its local dealer, Print & Finishing Solutions and the team at Standard: "We were up and running within a day, and ready to rock-n-roll!"
Paper Tiger Installs StitchLiner Saddlestitcher
Paper Tiger of Santa Fe, New Mexico recently added a Standard Horizon StitchLiner 5500 Saddlestitcher with VAC-1000 collating tower to increase production capabilities for their high-volume booklet work which includes catalogs, newsletters, brochures, and programs. The StitchLiner 5500 eliminates signature folding by combining flat-sheet gathering, scoring, folding, stitching, and three-knife trimming in one integrated line. Signatures are fed directly from the collator to produce true saddlestitched booklets with full-bleed trimming, at speeds up to 11,000 two-up booklets per hour.
"Set-up and changeover is speedy, and that's critical when you're moving multiple jobs through the system", reports Phil Baca, Technology Manager at Paper Tiger. "The new purchase has allowed us to quickly increase our capacity and deliver finished product to our customers even faster." The sale was completed by local Standard dealer Del Norte Printing Equipment of El Paso, Texas. With a strong focus on customer service, Paper Tiger has been locally owned since 1978 and offers a full suite of printing, copying, and mailing services from two locations in Santa Fe.
To post a comment Log In or Become a Member, doing so is simple and free