"Unsquaring the Wheel" is a Unique and Exclusive Top Executive Opportunity at the AMSP Annual Conference
Friday, June 21, 2013
Press release from the issuing company
Dr. Joe Webb, Wayne Peterson and Chris Bondy are pleased to announce an exclusive new event providing top executives new approaches to strategy and management of their businesses. The event will be held on Tuesday, June 25, when AMSP hosts the first presentation of "Unsquaring the Wheel." The event is a daylong workshop that unveils a scalable, integrated, and comprehensive model for reinventing graphic communications businesses.
"Unsquaring the Wheel" is a new program created with the collaboration of three wellknown authorities in the graphic communications and cross-media communications industries. The workshop provides the executives new tools to understand their current condition, strategic and operational gaps, a method to prioritize the path toward business transformation, and tools to measure and manage the process.
"Unsquaring" has been developed by Wayne Peterson, Principal of the Black Canyon Consulting Group, Chris Bondy, Administrative Chair of the School of Media Sciences at Rochester Institute of Technology, and Dr. Joe Webb, a 35-year veteran of the graphic arts industry. AMSP arranged for this special event before the official launch of the program this Fall.
The core of the Unsquaring process is a comprehensive and multi-faceted assessment tool. It enables owners and executives to create a clear picture of their enterprise on nine key vectors. To see the complete agenda for the workshop click here.
Watch AMSP's Ken Garner interview Wayne Peterson and Dr. Joe Webb online. You can see the web interview here.
To register for the "Unsquaring the Wheel" workshop, click: http://amsp.org/events/business-transformation-workshop/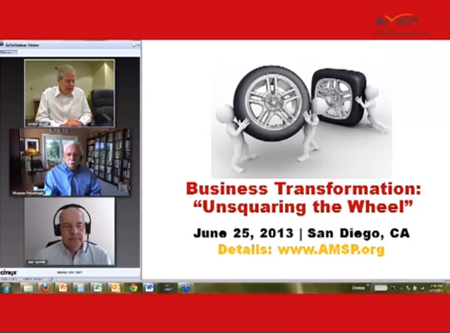 To post a comment Log In or Become a Member, doing so is simple and free