Aquarius Magazine Uses Ogle Augmented Reality to Add Rich Video Content
Tuesday, June 04, 2013
Press release from the issuing company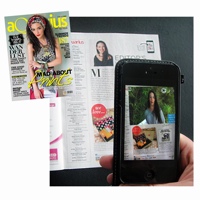 Dubai, United Arab Emirates - Aquarius Magazine bulks up its content without adding the extra pages. By making the smart move to embrace Ogle augmented reality, the magazine has truly found the smart solution to blending intelligent content with stimulating features.
Now readers can access more entertainment and information than ever before by 'scanning' through the magazine with their smartphones. Readers simply have to download the free Ogle app, then open it and focus their smart phones over pages which have the Ogle symbol on it.
The June 2013 Issue launched with a few pieces that could be 'Ogled' to test the response to this new way of delivering rich content. Where before readers could only absorb the passion and enthusiasm of the editor in 'The Editors Letter,' they now have the option to actually hear it straight from the editor's mouth.
In addition to other augmented features, readers are treated to fascinating behind-the-scenes footage of the front cover photo shoot. To see how much effort goes into choosing locations, finding the right look and styling the photo shoot, adds endearing value to the magazine.
"We're very excited to be the first publication in the region to be introducing Ogle augmented reality technology to our readers. Not only does it bring our content to life for our audience, but it enables us to be more creative with how we portray our content. Additionally, we can use it to bring together our print, our web presence, our YouTube videos and our social media, thereby harnessing the full power of all our platforms into one unified, interactive experience." EDITOR, LOUISA WILKINS
While this is the first lifestyle publication to embrace the technology of Ogle in the Middle East, publications overseas are already enjoying unprecedented success with mobile apps. Publications in the UK have had increased interaction in their first week of using the technology in their magazines which demonstrates its added value.
Says Editor, Louisa Wilkins, "We've all been impressed by the usability of the app and excited about the potential it offers to our products - not just for ourselves editorially, but also for brands advertising within our magazines. With augmented reality, the opportunities are endless... It's really just a matter of how creative you want to be with it. It will be interesting to see over the coming months how we can utilise Ogle as a resource to get more out of our content, and how readers respond to it."
Where QR codes have had limited success, AR campaigns are already seeing huge levels of success and engagement. Users are no longer simply driven to associated websites. By adding another layer of entertainment and information, the user experience is far more engaging. Ogle amplifies credibility as faces behind the pages come alive in interviews; competitions become more interactive and static articles get a dose of reality-rich media.
Aquarius Magazine is achieving the much sought after balance between digital and physical content and seems set to inspire a change in strategy for publications across the region by using Ogle. Download the app for free from www.ogle.ae and try it on the latest issue of Aquarius Magazine to see it for yourself.
To post a comment Log In or Become a Member, doing so is simple and free