Beijing - The 8th Beijing International Printing Technology Exhibition, China Print 2013 came to an end proving successful for manroland sheetfed, China, who reported a good turnout of visitors and a number of new ROLAND press orders.
Visitors to the stand witnessed a ROLAND 700 HiPrint 6-color with coating in 3B+ format (Qingdao Jiabao Printing Packaging Co.) in action with topics on improving efficiency; reducing operating costs and improving profit margins to achieve sustainable profitability and development.
At a press conference, Rafael Penuela, Chief Executive Officer of manroland sheetfed GmbH said he was delighted with the overall success achieved by manroland sheetfed since being acquired by Langley Holdings plc. He also went on to say that sales of new sheetfed offset presses were not only meeting but exceeding expectations and manroland holds a strong position especially in the packaging and high end commercial printing fields.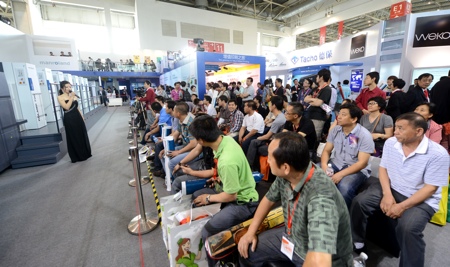 Adam Yuen Managing Director of manroland, Greater China said manroland sheetfed was fast becoming the first choice of many print companies in South East Asia and following its new ownership and successful restructuring of group headquarters, manroland sheetfed has been transformed into a profit-orientated enterprise more conducive in providing even better all-round solutions for customers to lead their markets and secure more business opportunities.
During the event manroland arranged for clients to visit Tianjin Tingzheng Printing & Packing Material Co., Ltd., the world's largest manufacturer of instant noodles, who currently has four 6-color ROLAND 700 HiPrint presses with coating in 3B+ format in their Tianjin facility. Those who visited the facility could not help but be impressed at the high productivity achieved, efficient operation and standardized management flow systems.Tianjin Tingzheng, part of the leading Ting Hsin International Group, operate a total of 10 manroland sheetfed six-color ROLAND 700 presses; with the latest four machines equipped to 3B-Plus Format. Since setting up their own printing house in 2007, the company has operated 23 hours continuously every day in 3 shifts with the average output per machine per year at around 90 – 100 million sheets; that is approx.. 260,000 sheets per day!