PPC Plants Tree at Inner City Family Center as Part of the Annual TICCIT Program
Thursday, May 02, 2013
Press release from the issuing company
SPRINGFIELD, MA - On Friday, April 26, 2013, a group of 50 afterschool program students, parents, community leaders, local business owners, staff from the Springfield-based Paperboard Packaging Council, a Massachusetts State Representative, and teachers at Springfield, MA's Martin Luther King Jr. Family Services Inc. planted a white magnolia tree, sang songs, and danced, as part of PPC's "Trees Into Cartons, Cartons Into Trees" (TICCIT) Program (a national educational program that highlights the renewability and recyclability of paper and the benefits of trees to our environment).
Prior to the planting, PPC Director of New Generation Leaders Jennie Markens visited the center to remind the students about the benefits of recycling and why trees are important to the environment, as well as to describe how paper and paperboard is made.
"It was an honor to meet the children who utilize the Martin Luther King Jr. Family Services Center and explain to them why it is so important for us all to be ecological minders of our community," said Jennie Markens.
Friday's ceremony started with sixth grader Marques Henry and third grader Mi'kel Greene presenting a history of the magnolia tree, after which MA State Representative Benjamin Swan spoke to the children about their important role both within their community and across the globe.
The children were next presented with complimentary tree saplings from the city's forester, who described his fondness for Arbor Day and offered some pointers on tree planting. The children then performed their signature MLK line dance, before marching to the front of the building singing about the significance and beauty of trees, accompanied by Jennie Markens on guitar. The tree was then planted, with the children's assistance.
"After landscaping for the Martin Luther King Jr. Family Services Center in the Fall, we were thrilled to add a flowering tree to their grounds," said Ben Markens, PPC President. "We especially enjoyed the opportunity to introduce the students to the importance of trees, the renewability of paper, and the value of recycling."
To view photos from the event and to learn more about the annual TICCIT program, visit paperbox.org/TICCIT.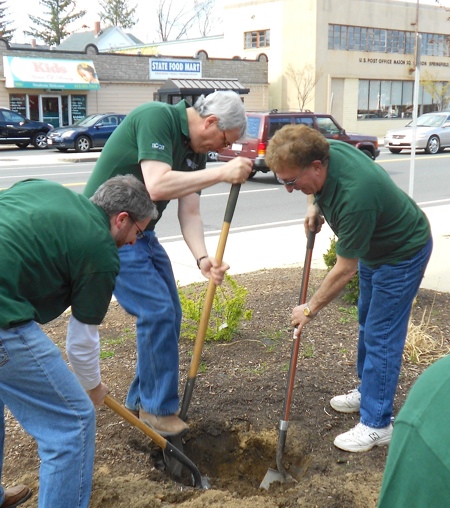 PPC Director of Industry Benchmarking Brian Chaisson, PPC President Ben Markens, and PPC Vice President Lou Kornet prepare the ground for planting a magnolia tree during the Martin Luther King Jr. Family Services Center's TICCIT program in Springfield, MA.
To post a comment Log In or Become a Member, doing so is simple and free