Masterwork USA Exhibits New Duopress Foil Stamping and Die Cutting Machine at Odyssey in Nashville
Thursday, April 18, 2013
Press release from the issuing company
Integrated design with one-pass productivity provides faster speeds, higher quality, and less waste
Masterwork USA, a leading manufacturer of folding carton and packaging equipment headquartered in Charlotte, NC, will be exhibiting its new MK21060 STE Duopress automatic foil stamping and die cutting machine with stripping at the IADD FSEA Odyssey trade show in Nashville, Tennessee. Masterwork will be located at Booth 606-608. The Odyssey show will take place from May 1-3 in the Nashville Convention Center.
"We are pleased to bring our new Duopress foil stamping and die cutting machine to the Odyssey show," says Carol Jiang, Vice President, Masterwork USA. "We developed the MK21060STE Duopress to improve production and reduce downtime in the print and packaging industries. Rather than the cumbersome old system of taking a printed sheet and going through separate units of foil stamping, embossing, die cutting, stripping, and counting the finished product, our new MK21060 STE features an integrated design processing all of those multiple functions in one pass. We believe that folding carton and packaging firms will find that our new all-in-one machine offers faster speeds, more precision productivity, and less waste. Plus, these firms will be able to easily produce high-quality boxes with enhanced designs for high-end customers in the cosmetic, fragrance, tobacco, and music/film/gaming markets."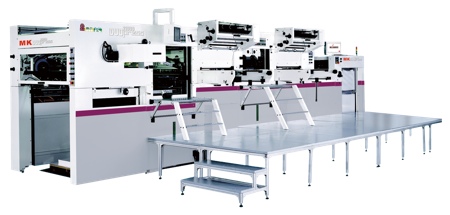 The MK21060STE Duopress foil stamping and die cutting machine with stripping is designed with a one-pass integrated system combining the platen through the embossing and foil stamping onto the die cutting and stripping functions. The two-platen system makes the machine a versatile production platform for creating high-quality packaging or decorative greeting cards with elaborate designs. The machine boasts a maximum output speed of 6,000 sheets per hour, but because multiple passes with two platens run at one time, users realize an output of 12,000 sheets per hour. Its optimized pressure adjustment provides a better foil stamping result. Its patented design of the adjusting mechanism ensures that the two units have high register accuracy. A separate power-driven waste conveyor belt is capable of removing waste at a high speed.
IADD FSEA Odyssey is the converting industry's premier three-day education and technology expo uniquely focused on diemaking/diecutting, folding carton, corrugated, converting, foil stamping, embossing, and specialty industries. It is sponsored by the Foil and Special Effects Association and the International Association of Diecutting and Diemaking.
To post a comment Log In or Become a Member, doing so is simple and free