Appleton Coated Promotion Highlights Personalization Potential of Digital Printing
Wednesday, January 23, 2013
Press release from the issuing company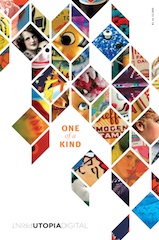 Combined Locks, Wis. -- Appleton Coated's new One of a Kind: PrintUtopia Digital promotion exemplifies the personalized potential made possible by digital printing with 12,000 unique covers -- all printed digitally, in sequence, on the same press, on Utopia® coated papers and Curious Collection® papers.
One of a Kind guides readers to experience the many ways digital printing on Utopia and Curious Collection provides superb quality reproduction combined with the attention-getting appeal and versatility of variable data technology. Digitally printed on Utopia Two® (U2) and Curious Metallics using an HP Indigo® 7000 Digital Press, the promotion illustrates varnishes, foils, opaque white ink and other innovative techniques.
"There's a thrill of discovering something rare, something exclusively yours," says Ferkó X. Goldinger, Appleton Coated's marketing manager. "One of a Kind captures this spirit and the matchless treasures scored at swap meets, garage sales and online quests. It celebrates the quirky, handcrafted pleasure of American artifacts and keepsakes -- many relating to the century-long heritage of Appleton Coated."
Along with eye-catching icons and imagery, the promotion champions the power of printed customization supported with such statistics as: "In the retail market, personalization delivers a 20% response rate, almost 10 times that of static campaigns."
For a copy of One of a Kind: PrintUtopia Digital and for more information about Appleton Coated, Utopia and Curious Collection, visit appletoncoated.com.
To post a comment Log In or Become a Member, doing so is simple and free