Meredith-Webb Signs Contract for Rapida 162a 64"- Its Second KBA Press
Wednesday, January 09, 2013
Press release from the issuing company
New large format seven-color with UV joins six-color ten unit 41-inch in North Carolina facility
KBA North America is pleased to announce that Meredith-Webb Printing Company, a Burlington, NC printer has signed a contract at Graph Expo 2012 for the purchase of a KBA Rapida 162a 64-inch seven-color press with coater and UV capabilities. The new press will be delivered first quarter 2013 and features a bevy of automation. The press includes a color management console as well as the KBA Densitronic Professional color control system which provides the best quality and repeatability available. Its KBA Logotronic management system provides up-to-the-minute data on jobs, workflow, throughput, and quality.
"Ever since we installed our first KBA press, the Rapida 106, we have experienced steady growth by adding new clients and providing new services to our existing clientele," says Kelly Webb, executive vice president at Meredith-Webb. "During the last few years, we've seen our customer base broaden significantly. Speed to market is critical to our customer base. The Rapida 106 has made a positive impact on our ability to meet our customer's demanding delivery requirements. The speed and quality set us apart from the competition. We offer the complete package: a knowledgeable sales force, creative CAD design, dedicated customer service, quality control department that oversees the entire process, and a logistical team experienced in meeting the requirements of a test market to a national rollout and the team work to continually deliver complete customer satisfaction."
"The move to KBA in 2010 has been a huge success", says Travers Webb, president. "The 10-unit 106 Rapida UV press effectively replaced two 41" 8-unit presses, one single and one double coater. The Rapida increased production, quality and provided the flexibility to meet or exceed increased customer demands. Meredith-Webb committed to KBA to expand our current 64" press capacity with the new Rapida 162a 7-unit plus coater UV press. We expect the same service and support from KBA as we move forward with the vision started in 1952 by our founder, George T. Webb, Jr."
Led by his sons, Travers and Kelly, Meredith-Webb continues to grow. The main headquarters located on Main Street in Burlington, NC approached 200,000 square feet for its plant and warehouse operation at the end of 2012.
A key component of the new Rapida 162a is its UV capability, says Webb. "It is essential to offer UV to your customers and it will add to our capabilities in large format," he says. "UV is used for protection, innovation, and to provide textured coatings and dimension. It provides flexibility to our customers and gives us an innovative technique. Our existing customers and new clientele demand high levels of innovation and print quality and our KBA presses are instrumental in responding to those demands."
The 95-employee firm has proudly earned the chain-of-custody certifications endorsed by the Forest Stewardship Council (FSC), Sustainable Forestry Initiative (SFI), and the Programme for the Endorsement of Forest Certification Schemes (PEFC) as part of the company's commitment to achieve its environmental initiatives. Meredith-Webb also earned the G7 Master qualification, the "seal of approval" from the IDEAlliance as a G7 Master Printer, which proves that the firm possesses the technology and tools to consistently deliver the highest quality printing in the world, based on the most stringent international standards.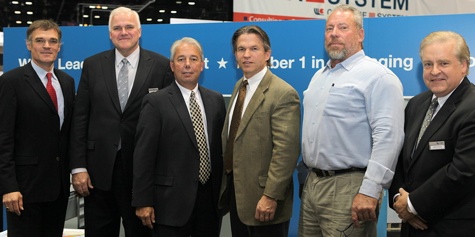 Left to right : At Graph Expo 2012, Claus Bolza-Schunemann, president and CEO of KBA ; Soren Larsen, KBA North America senior vice president of sales ; Sam Creel, KBA sales manager ; Kelly Webb, executive vice president at Meredith-Webb ; Travers Webb, president of Meredith-Webb ; and Mark Hischar, president of KBA North America ; met to sign the press contract.
KBA North America is located in Dallas, Texas and a member of the KBA Group. Established almost 200 years ago in Wuerzburg, Germany, Koenig & Bauer AG (KBA) is the oldest and second largest press manufacturer worldwide. KBA's banner, 'People & Print', reflects its dual focus as a leading innovator for print entrepreneurs. The group's product range is the broadest in the industry; its portfolio includes commercial and newspaper web presses, sheetfed offset presses in all format classes, inkjet systems and presses, special presses for banknotes, securities, metal-decorating, smart cards and discs. For more information visit the company's web site at www.kba.com
To post a comment Log In or Become a Member, doing so is simple and free